Polysorbate 20 is derived from Lauric Acid and is used as raw material for multiple pharmaceutical products, for scientific application. Lauric acid (C12H24O2) is a saturated fatty acid found naturally in coconut oil, butter is its common food sources. Due to its relatively non-toxicity and emulsification nature, it's used for thousands of domestic items as well. Polysorbate 20 compound is formed by ethoxylation of sorbitan that leads to a commercial product containing a range of chemical species.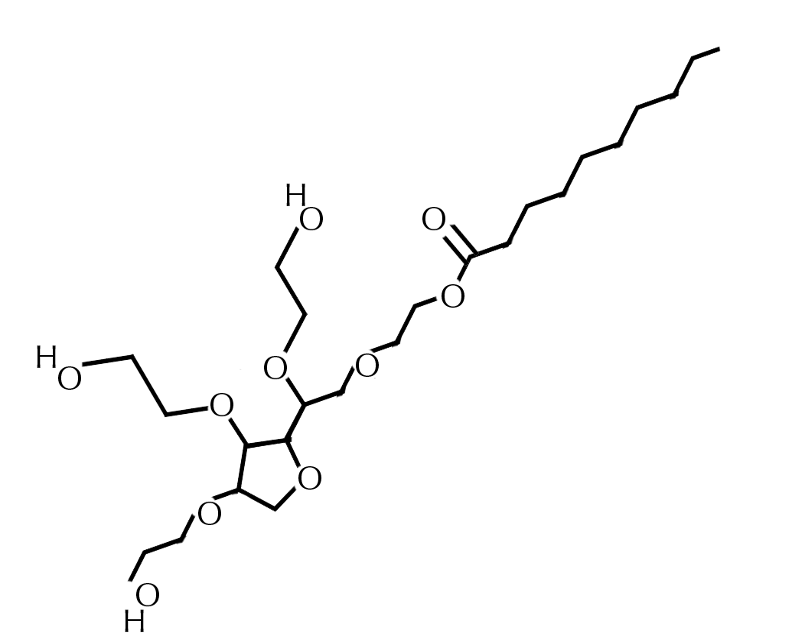 A short review of Polysorbate 20
Pros: Polysorbate 20 is used to improve the quality, texture, and feel, of all cosmetic products and the scent of skincare.
Cons: There are some concerns about the co-existence of structural isomer named 1, 4-dioxane in it. This could be tackled with purifying techniques under standard regulations.
Who Can Use It? All skin types equally helpful, except those people who have an identified allergic development.
Synergetic Ingredients: Works with almost all type of cosmetic ingredients
Use of Polysorbate in cosmetics: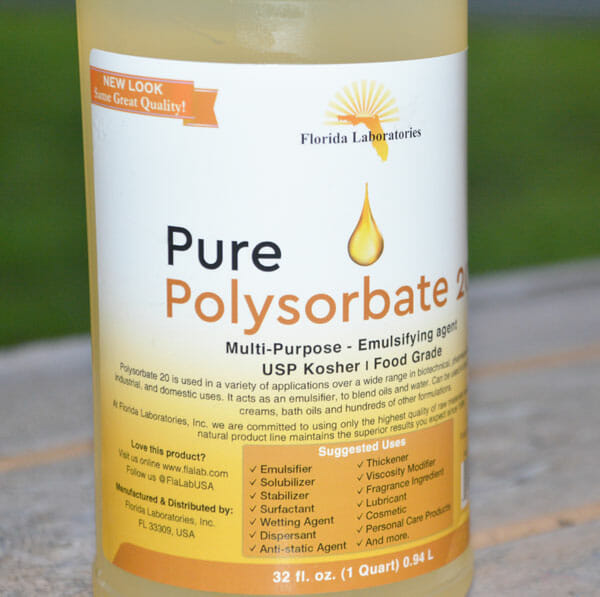 Solubilizer Polysorbate 20 can be used as a viscosity modifier, wetting agent, and as dispersing agent. It is the final chemical that is needed to mix fragrance oil with water-based cosmetic products like baby shampoo, Foundation, Body spray, Lotion, Face creams, Mascara, lipstick, Sunblock and Baby skincare products, because of its very less eye irritation. Polysorbate solubilizer act as binder and keep intact to fragrance and product material. This property gives cosmetics a clear look. Basic proportion for general usage is 1 ratio 1. That means Mix oil, fragrance and Solubilizer in equal quantities. Blend them and add this slurry to your cosmetic product this will retain its transparent appearance.
Why Polysorbate 20 is the core ingredient for the production of cosmetics?
As per testing and results of the organization named as all new direction aromatics (NDA), polysorbate could be used for outer skin products manufacturing and it's used because it gives of following reasons.
It Combines with non-soluble parts
Create foam in cleansing products
Maintain beauty product clarity
Gently soothes skin and help in deep cleansing
Increase spread ability of products on the skin
Solubilizer Polysorbate 20 functions as a:
There are multiple functions of polysorbate 20 due to which it is widely used in the production of cosmetic products. Some of the core effects or functions that solubilizer polysorbate performs after mixing up with beauty products are listed below.
Solubilizer
Surfactant
Dispersant
Emulsifier
Stabilizer
Stabilizer
Lubricant
Dispersant
Surfactant
Cosmetic
Thickener
Wetting Agent
Anti-static Agent
Viscosity Modifier
Fragrance Ingredient
Other Application of polysorbate 20 and benefits
Although polysorbate 20 has a major role in the cosmetic industry, its fact that it has multiple daily life and scientific applications as well. Following we have tried to brief important applications of polysorbate 20.
1.Food applications
For wetting agent and flavoring purpose of ice drops. It is also used as mint flavor in multiple food products. Polysorbate 20 have another use in food industry it is used as an alternative ingredient in place of SD alcohol.
Polysorbate 20 E432 is used in different food items such as edible oils, cake icings, cakes and cake mixes, cake fillings, salad dressings, cocoa products, chocolate preservatives, chocolate syrups, dairy product substitutes, sugar and confectionary coatings, mineral oils and also use in natural coating of fruits and vegetables.
2.Biotechnological applications
Along with the usage of polysorbate in cosmetics, it equally important in the biological field and lab sciences. Polysorbate 20 has a broad range of applications. For example, it is used:
Act as a washing agent in labs for immunoassays, such as Western blots and ELISAs. With its presence, non-specific antibody contamination can be controlled and it also prevents binding.
It is used in skin testing for tuberculosis.
as a solubilizing agent of membrane proteins
At a concentration of 0.05% to 0.5% v/v, it could lysis mammal cells, it is generally used in combination with other detergents, salts, and additives.
3.Pharmaceutical applications
It is used in multiple as an excipient in pharmaceutical applications to stabilize emulsions and suspensions.
Polysorbates are also present in multivitamin solutions for the purpose to dissolve water-soluble and lipid-soluble vitamins to make a different medicinal tincture. Furthermore, polysorbates are present in a large number of biological medicinal products such as enzymes (alteplase), immunoglobulins and monoclonal antibodies for both preventing surface adsorption and as stabilizers against protein aggregation. Moreover for vaccines production, polysorbate 80 and 20 both are used either as antigen or as emulsifying agent. (Research paper Reference)
4.Industrial and domestic application
Solubilizer Polysorbate 20 is used by stamp lovers or philatelists to eradicate stains stamps or sometime to remove stamps from envelopes without damaging the stamp itself.
Polysorbate 20 is also used as wetting agent in elastic and rubber industry.
Polysorbate 20 has amazing properties to shape up Nano particles and due to this ability it has been used as catalytic agent to create spheroidal magnetic Nano assemblages.
Polysorbate 20 E432 can be used as emulsify and act as a detergent in floor cleaners and other cleaning products.
5.Medical use
Polysorbate 20 and 80 both are excipient which is used to stabilize the aqueous medium required for medicinal preparation, and used as an emulsifier in the making of the popular antiarrhythmic amiodarone.
It has other applications in the medicinal industry such as influenza vaccine preparations are done under the use of polysorbate. And each Influenza vaccines contain 2.5 μg of polysorbate 80 per dose.
It is also used in the culture of Mycobacterium tuberculosisin Middlebrook 7H9 broth.
It is also used as an emulsifier in the estrogen-regulating drug Estrasorb.
Also used in granulation for stabilization of drug and excipients while doing IPA binding
6.Laboratory use
Polysorbate is used to test specific phenotypes of bacterial strains. Some mycobacteria contain a type of lipase enzyme. When these species are added to a mixture of polysorbate 20 and phenol red, they cause the solution to change color, so this is used as a test to identify the phenotype of a strain or isolate.
Polysorbate 20-Usage and limitations
0.25mg/kg of body weight is the maximum acceptable dosage that is permitted by WHO. Polysorbate 20 is additionally used for flavored agent in place of mint flavoring substances. The pharmaceutical industry it is widely used as well-known excipient in medicinal applications for emulsions and suspensions.
Is Polysorbate 20 Safe?
Cosmetic Ingredient Review (CIR), analyses the ingredients, scientific data and concluded that polysorbate 20 is safe to use in cosmetic products.
Even after approval of polysorbate Solubilizer by CIR, there still some concerns about the ethylene oxide presence in its formation. Because it could lead to contamination of its isomer named 1,4-dioxane which is a potentially carcinogenic chemical. According to a published paper (link-https://ntp.niehs.nih.gov/publications/reports/index.html?type=Developmental)1,4-dioxane can penetrates into animal skin as per test results of lab. So it could be anticipated toxic substance to human.
It can also cause multiple type of allergic reactions but the presence of isomer can be controlled through purification methods.
Precautionary measure before use of polysorbate
Although Polysorbate 20 is a low vulnerability ingredient and have nothing to do with any kind of health issues, but still some consequences are reported after intake of high dosage in animals. Major issues that were reported include organ toxicity, irritation, and endocrine disruption. But all such cases were under controlled environment for research purposes to make sure the pros and cons of polysorbate.
Solubilizer Polysorbate 20 is nontoxic material not a single case never ever has been reported in USA but still as a precautionary measure test it before applying it to any part of the body. For that purpose before application of Polysorbate 20, it is highly recommended to perform a short skin test.
For that test take an equal proportion of any fragrant oil and mix it with polysorbate 20, apply that mixture on a small area of your body and let it dry. If an allergic reaction develops then stop using this product, and consult with your pharmacist.
Solubilizer Polysorbate 20 must never be used near the inner nose and ears or on any other particularly sensitive areas of skin.
Final Verdict
Florida laboratories (flalab.com) is the only trusted corporation for authentic Polysorbate 20 Food Grade Kosher in Miami Florida. Polysorbate 20 is manufactured and store the final product by abiding standard rules of FDA and OSHA. If you would like to buy Solubilizer Polysorbate you can check the following page (https://flalab.com/product/polysorbate-20-food-grade-kosher/) for more information about the availability of Solubilizer Polysorbate 20 in the Unites State.
Where to buy the Polysorbate?
| Polysorbate 20 | Polysorbate 20 Drum |
| --- | --- |
| | |
https://flalab.com/wp-content/uploads/2020/11/benefic-polysorbate-20.jpg
675
1400
Luis Tovar
https://flalab.com/wp-content/uploads/2020/09/logo_flalab_3.png
Luis Tovar
2020-11-22 17:40:17
2020-11-23 23:48:30
All about Uses of Solubilizer Polysorbate 20