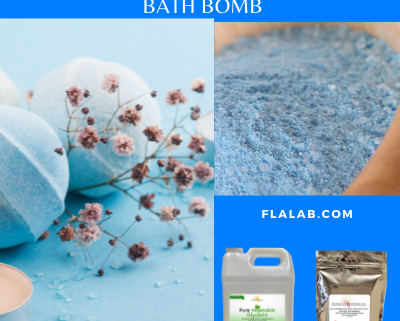 Blue Salt Fizzy Bath Bomb
Got the blues? Long day at work? Relax your body and soak in our recipe for Blue Salt fizzy bath bomb.
Epsom salt is a compound of magnesium and sulfate, which most people are deficient in—soaking in a bath with our Magnesium Blue Salt Fizzy Bath Bomb will soothe your aches and pains. Just soaking in this bath for 20 minutes will rejuvenate you and ease any tensions in your muscles. Also, if you soak in it just for bed, it will help you relax and fall into a deep and serene sleep.
Ingredients:
2 cups Epsom Salts
2 Tabs Vegetable Glycerin
1/2 cup Citric acid
1/2 cup Sodium Bicarbonate
10 drops vanilla essential oil
10 drops rose essential oil
1 cup  Sea Salt
1/2 cup castile soap
1/2 teaspoon blue Mica colorant
Recommended Supplies:
Baking sheet
Parchment paper
Two bowls
Measuring cup
Potato masher
Simple Directions:
Put the Epsom salt, Himalayan sea salt, Sodium Bicarbonate, and citric acid into a bowl and mix until well combined. Add the blue mica colorant until you reach the blue shade you desire.
In another bowl, mix all the oils.
Slowly pour the soap and oil mixture into the bowl with the dry ingredients. Carefully stir to combine. Once combined, you can run it onto the parchment paper and dry it 24-48 hours.
When it is finally dry, you can transfer it to a bowl and mash it with a potato masher to break it into pieces and then transfer it to your mason jars. This should make about 10 ounces of bath salt.
Follow us on Pinterest.
https://flalab.com/wp-content/uploads/2021/12/blue-salt-fizzy-bath-2.png
425
400
Romina
https://flalab.com/wp-content/uploads/2020/09/logo_flalab_3.png
Romina
2021-12-23 16:26:13
2021-12-23 17:10:59
Blue Salt Fizzy Bath Bomb