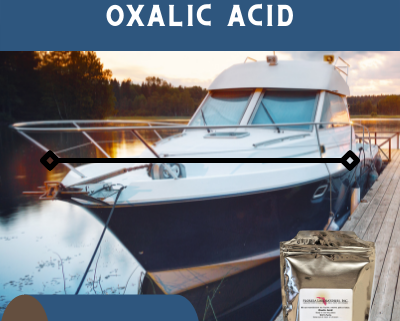 Boat Rust Removal-Oxalic Acid
Boat Rust Removal-Oxalic Acid-Most Boat Owners are fully aware of the rusty corrosion issues that eventually appear on the hull of their boat. It can be challenging to maintain the boat hull's original luster.
Boats that are constantly in a saltwater environment are under constant attack from a variety of sources. Algae is always going to be problematic to your vessel's hull.
The Best remedy is to use Oxalic Acid. Not only is it effective for your boat's hull, but it will also bring back the shine of all the wooden areas of your boat, such as the deck and all of your boat's wooden surfaces.
Instructions:
Use 4 ounces of oxalic Acid with 1 quart of warm water.
(Protect any galvanized metal as the oxalic Acid Acid will destroy it.)
Appy to your boat hull and let sit for 5 minutes.
Then rinse off with a hose.
Make sure your hull is thoroughly rinsed off!
Visit us on Pinterest! 
Oxalic Acid is a natural compound and a potent acid with its acidity a thousand times stronger than acetic acid. When purified, it has the appearance of a white crystal substance and is virtually colorless in water. The dry form is stable and does not expire.
Oxalic acid dihydrate is a reducing agent. also known as Ethanedioic Acid, which is a diprotic acid, giving away 2 protons (hydrogen ions) to a base.
https://flalab.com/wp-content/uploads/2021/10/boat-rust-2.png
425
400
Romina
https://flalab.com/wp-content/uploads/2020/09/logo_flalab_3.png
Romina
2021-10-13 12:16:27
2021-12-10 14:31:06
Boat Rust Removal-Oxalic Acid