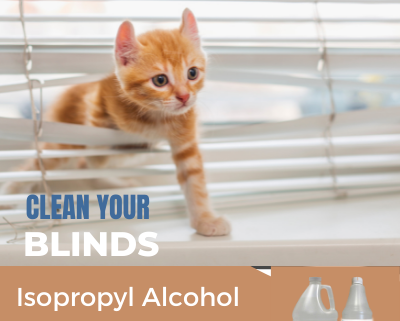 Clean your blinds with Isopropyl Alcohol
Instead of using soapy water, the iso 99% doesn't need to be mixed with water and is more effective if you use a fresh paper towel for each slate in isopropyl alcohol 99%  and wipe each blind. Regular dusting with a soft cloth is a quick method to keep your blinds free of dust mites and other allergens and bacteria. But to kill germs, bacteria, dust mites, and pet dander, use Isopropyl Alcohol 99%.
You will notice it dries instantly. Also, make sure the blinds are open so that air can circulate between each slate. You can clean your blinds one to two times a month with this method. Please note that unless your isopropyl alcohol is 99%, it will not dry as fast.
Clean your blinds with Isopropyl Alcohol
It is an effective 99% isopropyl alcohol solution that takes care of the bacteria within seconds of application. That means you won't need to wait minutes or hours if you crave something. Just after a few seconds of spraying, you can satiate your hunger right away. Not just the traveling part, you can use it almost everywhere you need to tough. When you're driving, you can spray it on the steering wheel. Not to mention everyone loves going to the park no matter what the age is. Especially if you have a child, you need to pay extra attention to the swings. You can spray it on the swing rod and make it safe for your child and everyone else.
There's no need even to mention the amount of bacterium/viruses that fight their way to reach out to mobile screens. We use our mobile most of the time in the day. It won't hurt to spray it once or twice just to stay safe! The solution is mobile-friendly and doesn't harm the internal. As you see, anyone can use it, including doctors, lab technicians, or even a traveling student! There's no question of comprising hygiene, whether it is a commercial industry or personal use. 99% Isopropyl alcohol is undeniably the one hole you need to fill in your hygienic life, the one thing you should not miss out on. It's perfect to use it anywhere as there are innumerable places to the left to disinfect. With its help, you can clean everything around you, instant without waiting too long.
Key Features of Isopropyl Alcohol 99%
Use for Home, Industrial & Commercial Applications.
Our 99% Isopropyl Alcohol is  Anhydrous and pure.
First aid antiseptic.
Decrease germ in minor cuts and scrapes.
For external use only.
99% Isopropyl Alcohol is also known as Isopropyl Alcohol Anhydrous is also known as  2-Hydroxy propane, 2-Hydroxypropane, Dimethyl carbinol, IPA, Isopropanol, Isopropyl Rubbing Alcohol, Isopropyl alcohol, Propan-2-ol, Propane, 2-hydroxy-, sec-Propanol, sec-Propyl Alcohol.
Florida Laboratories
Allow FlaLab.com to supply your Isopropyl Alcohol needs. Anhydrous supplier, fast shipping, informative lab offering top quality products and chemicals to customers nationwide.
Warning
Flammable.
Use only in a well-ventilated area, fumes may be harmful.
For external use only.
https://flalab.com/wp-content/uploads/2021/10/Clean-your-blinds-ISO-1.png
425
400
Romina
https://flalab.com/wp-content/uploads/2020/09/logo_flalab_3.png
Romina
2021-10-07 12:25:26
2021-12-10 14:34:07
Clean your blinds with Isopropyl Alcohol