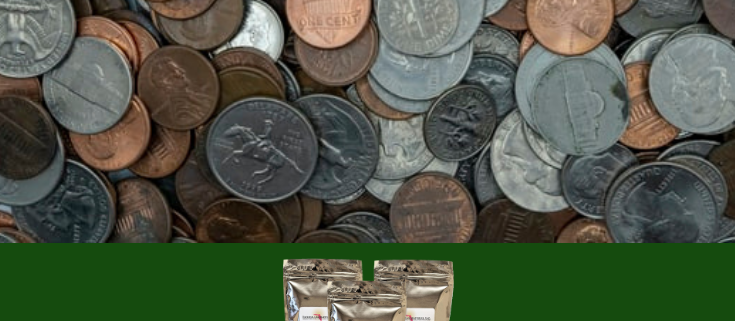 Clean Your Coins With Oxalic Acid Whether you are a coin collector or dislike dirty coins, we have a safe solution that will not damage or devalue your coins. First, you will need to separate your coins.  We recommend starting with your pennies.
Pennies are made of copper.  You can bring back the copper in your pennies to its original luster and shine by using oxalic acid.
To Clean Your Coins With Oxalic Acid
Follow these simple instructions for the best results:
Take two small bowls. Put one cup of hot water in one bowl and one tablespoon of oxalic acid in another bowl. Let the pennies sit in hot water for about a few minutes, then dip the coin in the oxalic acid and lightly scrub with a soft-bristled toothbrush. (make sure you wear rubber gloves). Then rinse off with warm water and polish dry with a clean cloth.
You can clean your dimes, quarters, and half dollars together since they are made of silver. Just follow the same instructions you used for your pennies.
The last coins you would treat would be your Nickels. Nickels are made of Nickel, and you would use the same instructions as all the other coins. Over time, brown oxidation settles into your coins and causes that grungy, dirty coin look. The oxalic acid will eat away at the brown oxidation that settled on your coins.
Once all your coins are thoroughly dried and polished, you will see your coins sparkle again.
Always make sure to wear rubber clothes when handling the coins with the oxalic acid. And we also advise wearing a face mask as to not breathe in the oxalic acid.
Florida Laboratories is located in Fort Lauderdale and can supply you with various sizes and quantities of oxalic acid. Please visit our online shop. We offer quick shipment on all of our products.
You can visit our blog any time for more tips, tricks, and recipes.
Follow us on Pinterest!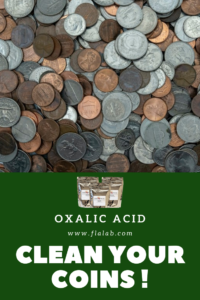 https://flalab.com/wp-content/uploads/2021/02/clean-your-coins-oxalic-acid-2-1.png
1102
735
Romina
https://flalab.com/wp-content/uploads/2020/09/logo_flalab_3.png
Romina
2021-02-08 15:55:25
2021-02-08 15:55:25
Clean Your Coins With Oxalic Acid