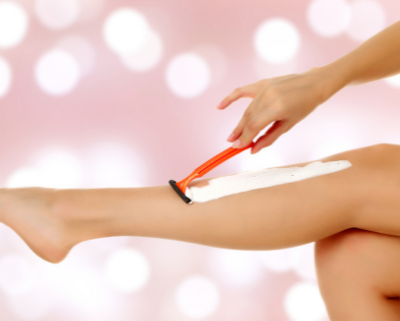 www.flalab.com
Clean Your Razor with Isopropyl Alcohol 70 %
To Buy NOW, click here: Isopropyl Alcohol 70 %
The skin is a repository of skin bacteria. Some skin bacteria are harmless, but a common bacteria is highly contagious called Staph aureus and can spread rapidly. Unsanitized razor blades create a haven for nasty germs to transfer from one part of your face to another. 
Staph bacteria can be transmitted through improperly sanitized razors.
When you shave your hair with a razor blade, you are also cutting into your skin, causing minor cuts in your skin, a point of entry for blood viruses like Hepatitis B & C.
Another reason to clean your razor blades is to keep the edges sharp and to reduce friction. Less friction will keep you safer from razor burns and cuts.
All kinds of residue build up on your razor blade, so we recommend cleaning your razor with Isopropyl Alcohol 70 % after each use. To disinfect your razor, you will need a clean cloth, moisten it with alcohol and use it to wipe down your blade.
Florida Laboratories is located in Fort Lauderdale, Florida. We have fast shipment and different quantities available.
Isopropyl Alcohol 70% acts as a disinfectant of all surface microorganisms. It is used to disinfect the hands and equipment surface in pharmaceuticals. It is also used as first aid to help prevent the risk of infection in minor cuts, scrapes, and burns.
The United States Pharmacopeia (USP) defines "isopropyl alcohol" as containing approximately 70 percent alcohol by volume of pure isopropyl alcohol. Certain bacteria's and viruses are better eliminated with the use of less concentrated isopropanol such as 70% Alcohol and this percentage is the perfect solution.
Isopropyl Alcohol/rubbing alcohol 70 percent has many Medical Uses and is a staple in hospitals and Labs. It is used to sanitize every aspect of the laboratory and walk-in centers, hospitals, Doctors officers, Dentists, etc. All hospital staff uses it regularly in hand sanitizing and on all equipment. Isopropyl Alcohol 70 is used in Professional Cleaning Services.  it is used to clean dirt from hard to reach areas, nooks, and crannies.
The Isopropyl It is also Used to remove glue residue, and window stickers. Used to remove stains from natural fibers like cotton and silk. It is used in Automotive Applications. Isopropyl alcohol 70% also is used in helping the accumulation of water in fuel lines. It is also used to melt snow and ice off of your windows and auto windshields.
.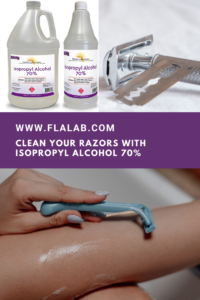 Visit us on Pinterest! 
https://flalab.com/wp-content/uploads/2021/01/shaving-legs.png
425
400
Romina
https://flalab.com/wp-content/uploads/2020/09/logo_flalab_3.png
Romina
2021-01-18 16:13:00
2021-07-23 13:47:41
Clean Your Razor with Isopropyl Alcohol 70 %