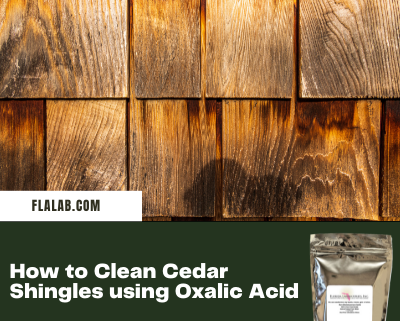 Cleaning Cedar Shingles/ Oxalic Acid
Cleaning Cedar Shingles /Oxalic Acid-Cedar Shingles can have a very charming look, and it's more stable than any other type of Wood. It doesn't warp like pine and is a renewable resource. However, the Cedar shingle's color can vary depending on exposure to sunlight, moisture, and saltwater.
Over time your Cedar Shingles can become filthy from mildew and algae that will grow on its surface, which won't damage the Cedar, but it will detract from the look of your home.
Unlike other shingles such as vinyl, asphalt, or cement, the Cedar shingles do not need to be scrubbed with brute force. A gentle approach is the appropriate cleaning method. With that being said, a periodic light treatment using oxalic acid is the best way to renew your Wood to its natural state,
To get started, prepare your Cedar.
If your shingles have been sealed with a varnish, use sandpaper in the direction of the wood grain.
Next, apply a liberal amount of oxalic acid solution to the Cedar with a sponge or brush and let the solution sit on the Cedar for ten minutes; then, with a garden hose, rinse with fresh water.
The Common ratio is about 2 cups of oxalic acid per gallon of water.
Visit us on Pinterest!
There are so many other uses for oxalic acid other than what we have listed here.
Please contact us with any questions about other possible benefits. Our knowledgeable staff will answer your requests promptly.
You can purchase Oxalic Acid online at Flalab.com.
Our warehouse resides in Fort Lauderdale, Florida. You can order in different quantities, Four ounces, Eight ounces, one pound, two pounds, five pounds, and ten pound bags; we also sell in bulk.
| | |
| --- | --- |
| PRODUCT | 4 oz, 8 oz, 1 Lb, 2 Lb, 5 Lb, 10 Lb |
| BRAND | Florida Laboratories |
https://flalab.com/wp-content/uploads/2021/09/Oxalic-Acid-cedar-shingles-2.png
425
400
Romina
https://flalab.com/wp-content/uploads/2020/09/logo_flalab_3.png
Romina
2021-09-30 14:04:20
2021-12-10 14:37:21
Cleaning Cedar Shingles /Oxalic Acid