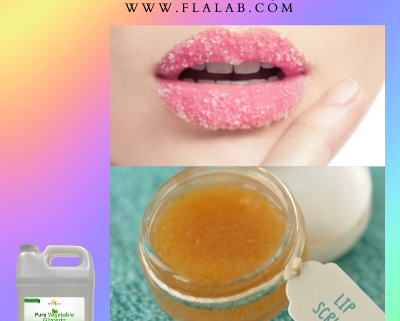 Coconut Honey Lip Scrub
Coconut Honey Lip Scrub-Sometimes drinking water isn't always enough to keep our lips from becoming dry and cracking. Regularly exfoliating your lips can help you avoid dead skin buildup on your delicate lips. Not only will this recipe hydrate your lips, but it will give it a nice little plump look as well. It is a healthy and inexpensive way to treat your lips regularly. You will love this tasty recipe so much but try not to eat it! Otherwise, you will see your scale plump instead of your lips.
Ingredients:
1-ounce vegetable glycerin
1-ounce honey
1-ounce sugar
1-ounce coconut oil
Instructions:
In a small bowl, combine all ingredients until it forms a nice paste.
Spoon into a closed container.
To use:
Gently rub on your lips, let sit for 5 minutes, and then rinse off with cool water.

Visit us on Pinterest!
Vegetable Glycerin
You can choose from our Multiple Sizes:
4oz VG one bottle
8oz VG ( 2 bottles 4oz VG )
12oz VG ( 2 bottles 6oz VG )
18oz VG ( 3 bottles 6oz VG )
32oz VG ( Quart ) one bottle
64oz VG ( Half Gallon ) one bottle
128oz VG ( Gallon ) one bottle
5 Gallon ( one bottle )
USP Kosher Vegetable Glycerin available from FlaLab.com from 4oz to 5 gallons. Whether you're looking for commercial or DIY ingredients, our quality Vegetable Glycerin will serve your needs & budget. Check out our multiple size options & other chemicals in our store to enhance your health, beauty, or food prep needs.
https://flalab.com/wp-content/uploads/2022/01/Coconut-Honey-lip-1.png
425
400
Romina
https://flalab.com/wp-content/uploads/2020/09/logo_flalab_3.png
Romina
2022-01-14 14:38:58
2022-01-14 14:38:58
Coconut Honey Lip Scrub