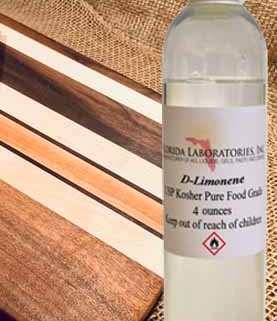 Homemade Wood Polish for cutting boards
D-limonene is perfect for cleaning wood as it contains no harsh abrasives and will not ruin your sealed wood finishes. It does, however, make your wood shine beautifully. A small amount goes a long way. 
We have added white vinegar to this recipe in order to disinfect your wood. Please make sure to use pure white vinegar since it has a low PH balance. The white vinegar  will still kill germs and bacteria but not leave a moldy smell to your board. Our recipe will leave your board smelling and looking like new.
Always care for your board by using our recipe and order through Florida Laboratories to always keep a supply on hand. 
 This Wood polish is a simple recipe for polishing your wood cutting boards. 
3 tbsp D-Limonene
1 Cup Unfiltered Beeswax
5-7 Cups Olive Oil
2 Tablespoons of white Vinegar.
Recommended Supplies:
Crock Pot
Glass Jar
Spatula
Simple Directions:
Instructions: In a dedicated crock-pot, heat beeswax and Olive until warm. Add D-Limonene and stir. Add the White Vinegar and pour blend into a jar of your choice. Let the blend come to room temperature. If blend is not solid, reheat and add more beeswax. Rub on your cutting board until it is completely polished.
Visit us on Pinterest!
https://flalab.com/wp-content/uploads/2020/05/cutting-board.jpg
498
277
admin
https://flalab.com/wp-content/uploads/2020/09/logo_flalab_3.png
admin
2020-01-14 00:00:00
2020-07-17 12:43:57
D-limonene-Homemade Wood Polish for Cutting Boards