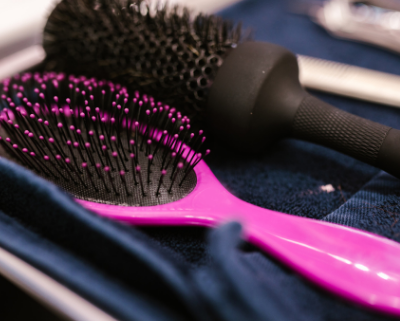 www.flalab.com
Did you know that your hairbrush is a breeding ground for thousands of different types of bacteria? We use all sorts of hair care products daily, from shampoos, conditioners, hairsprays, and scalp treatments, all of which creates a buildup of dead skin cells.
Every time you reuse your brush, you deposit all buildup and dead skin right back into your scalp and throughout each strand of hair. Brushing your hair with a dirty bacteria-filled brush can increase your risk of many different types of viruses, especially if you share your brush with other people or family members. Not only can you contract these viruses, but you can also develop all sorts of scalp and skin conditions. We naturally have a fair amount of skin flora(Mites & Bacteria) that live on our skin but cause no harm to us. By brushing with a dirty hairbrush, you reintroduce dead skin cells back into our heads and can prove dangerous to our health. That is why it is essential to wash your brush at least once a week, if not more.
We recommend using Isopropyl Alcohol 70% to kill any bacteria, mites, and germs that might be lurking in your brush. All you need to do is,
soak the brush or brushes for 25 minutes in 70% IPA to disinfect them. Rinse them in water and let dry overnight.
Disinfect Your Hairbrush with Isopropyl Alcohol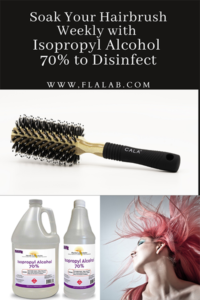 | | |
| --- | --- |
| | |
https://flalab.com/wp-content/uploads/2021/01/Hair-brush-3.png
425
400
Romina
https://flalab.com/wp-content/uploads/2020/09/logo_flalab_3.png
Romina
2021-01-22 01:32:49
2021-07-23 13:27:52
Disinfect Your Hairbrush with Isopropyl Alcohol