DIY Apple Fly Repellent
DIY Apple Fly Repellent-Flies are nuances to all our pets and, of course, to all us humans too. So if you would like to stop relying on store-bought fly repellents and enjoy all-natural ingredients, this is your solution.
Not only does this spray save you money, but it protects you and your pets from harsh chemicals that can get easily absorbed by your skin.
And as a bonus, The ingredient "Vegetable Glycerin not only "nourishes your skin but conditions the hair of your pet while keeping the flies at bay.
This apple cider fly spray is an all-natural Do-it-yourself solution.
It still gets the job done and is safe, quick, and easy to make and keep on hand.
This recipe is for a 16-ounce spray bottle.
Ingredients
2/3 cups apple cider vinegar
1 1/3 cups water
10 drops tea tree oil
15 drops lavender essential oil
20 drops vegetable glycerin
Instructions
Fill the 16-ounce spray bottle 2/3rd full of vinegar. Fill the rest with 1/1/3 water. Add the 20 drops of vegetable glycerin and add the other essential oils and shake.
DIY Apple Fly Repellent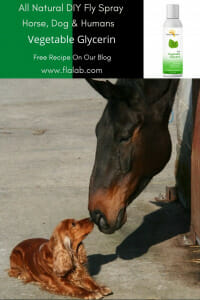 Visit us on Pinterest!
You can choose from our Multiple Sizes:
4oz VG one bottle
8oz VG ( 2 bottles 4oz VG )
12oz VG ( 2 bottles 6oz VG )
18oz VG ( 3 bottles 6oz VG )
32oz VG ( Quart ) one bottle
64oz VG ( Half Gallon ) one bottle
128oz VG ( Gallon ) one bottle
5 Gallon ( one bottle )
USP Kosher Vegetable Glycerin available from FlaLab.com from 4oz to 5 gallons. Whether you're looking for commercial or DIY ingredients, our quality Vegetable Glycerin will serve your needs & budget. Check out our multiple size options & other chemicals in our store to enhance your health, beauty, or food prep needs.
Our pure, USP, Food Grade and Kosher Vegetable Glycerin have a wide range of uses that include Cosmetics, Toothpaste, Shampoos, Soaps, Herbal Remedies, Pharmaceuticals, Foods, Sweeteners, DIY vape juice products and more. It is a clear, colorless, and odorless liquid with a sweet taste that has a thick consistency. Apply our Vegetable Glycerine to your skin and it will become immediately softer and hydrated. We are committed to provide a high-quality product that you need and deserve. Made in the USA and filled in an ergonomic HDPE container with safety heat-sealed foil for leak-proof closure.