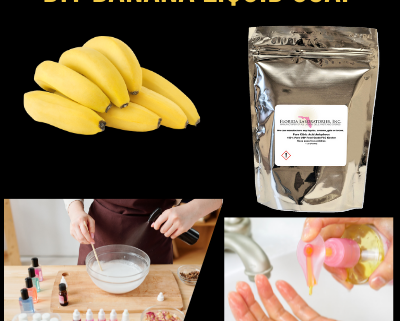 DIY Banana Liquid Soap
DIY banana Liquid Soap -If you love the smell of bananas, this is the recipe for you! The hint of bananas will linger on your hands until your subsequent hand washing. In today's times, with the pandemic causing everyone to wash their hands frequently, our hands are getting dried out and wrinkly. Banana oil in this recipe is perfect for restoring the elasticity in your skin and making your hands feel like it's soft and supple again.
*If you tried our recipe, we would love your feedback.
How To Make Banana Liquid Soap.
 Ingredients:
Banana Liquid Soap
2 oz. Citric Acid.
2 oz. of Boric acid.
7 oz. coconut oil.
14 oz. Olive Oil.
4 ounces of Banana Oil.
6 oz. potassium hydroxide.
15 oz. distilled water for the lye mixture.
35 oz. water to dilute the soap paste.
Supplies:
Large crockpot
Whisk
Measuring cups
Hand sanitizer bottles
Thermometer
Scale
Directions:
Mix your oils and heat in your crock-pot until it is 165 degrees.
Mix your lye-water, using a standard lye-making process.
Slowly add your lye water to your oils.
Next:
Using your whisk keep mixing until completely mixed.
Once the soap is mixed into a paste turn on the crockpot and cook for 3-4 hours until it turns translucent into a Vaseline consistency.
Dilute paste with 35 oz of distilled water and bring to a boil.
Turn off heat put a cover.
Let sit for about an hour.
Add Banana oil and turn Turn the crockpot back on and bring the mixture back up to 175 degrees.
Make neutralizing solution:
For the boric acid, take 8 oz. of boiling water.
Add 2 oz. boric acid mix extremely well and stays hot and mix into the soap paste.
Slowly pour the neutralizer into the re-heated soap mixture and stir well.
Let the soap cool and pour it into large bottles or jars.
Visit us on Pinterest 
https://flalab.com/wp-content/uploads/2021/12/DIY-banana-liquid-soap-1.png
425
400
Romina
https://flalab.com/wp-content/uploads/2020/09/logo_flalab_3.png
Romina
2021-12-30 16:36:31
2021-12-30 16:36:46
DIY Banana Liquid Soap