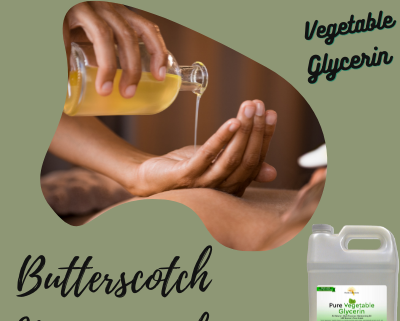 DIY Butterscotch Massage Oil
DIY Butterscotch Massage Oil-There are many tremendous benefits to having a massage regularly. It reduces stress and induces happiness. Unfortunately, going to a spa to get pampered every week can sometimes be out of our budget. The best alternative is giving yourself one at home. Maybe you can't give yourself a full body massage, but you can undoubtedly massage specific body parts like your legs, for instance, or even a scalp massage. This massage oil recipe is simple and perfect for all skin types.
Ingredients
¼ Cup Vegetable Glycerin (food grade vegetable glycerin)
¼ Teaspoon Organic Honey.
¼ tablespoons of vanilla extract
¼ tablespoon Butterscotch Food Flavoring
Instructions:
In a Jar, mix everything until thoroughly combined.
Pour into a clean bottle with a tight-fitting lid.
Can store in a cool, dry place for up to 6 months.
Visit us on Pinterest!
Key Features of Vegetable Glycerin:
100% food-grade natural oils based, Kosher certified, non-GMO, Vegan, and USP pharmaceutical grade
Natural Sweet Food alternative.
Excellent skin moisturizer that naturally hydrates dry skin. Hypoallergenic and easily soluble in water
Perfect for Soap, Shampoo, Cream, DIY products, art crafts, and other applications
USP Kosher Vegetable Glycerin available from FlaLab.com from 4 ounce to 5 gallons. Whether you're looking for commercial or DIY ingredients, our quality Vegetable Glycerin will serve your needs & budget. Check out our multiple size options & other chemicals in our store to enhance your health, beauty, or food prep needs.
Our pure, USP, Food Grade and Kosher Vegetable Glycerin has a wide range of uses that include Cosmetics, Toothpaste, Shampoos, Soaps, Herbal Remedies, Pharmaceuticals, Foods, Sweeteners, DIY vape juice products, and more. It is a clear, colorless, and odorless liquid with a sweet taste that has a thick consistency. Apply our Vegetable Glycerine to your skin and it will become immediately softer and hydrated. We are committed to providing the high-quality product that you need and deserve. Made in the USA and filled in an ergonomic HDPE container with safety heat-sealed foil for leak-proof closure.
https://flalab.com/wp-content/uploads/2021/09/Butterscotch-massage-oil-1.png
425
400
Romina
https://flalab.com/wp-content/uploads/2020/09/logo_flalab_3.png
Romina
2021-09-22 12:19:18
2021-09-22 12:19:18
DIY Butterscotch Massage Oil