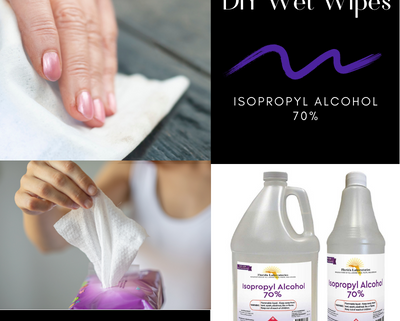 DIY cleaning wet wipes.
The origination of wet wipes.
In the mid-'50s, Arthur Julius invented the first wet wipe while living in NY. He originally called it the "WetNap" and had it trademarked. However, it wasn't announced to the world until the early 60s. The  Isopropyl Alcohol 70 %-filled Wetnap was used in the cosmetic industry for skin hygiene. But were found helpful as a means to disinfect almost everything.
He later sold his wipes to Colonel Harland Sanders, owner of Kentucky fried chicken.
KFC and the Wet Wipe
Kentucky Fried Chicken was the first to offer free of charge to its customers and has given out these wipes to every customer for over 25 years. Unfortunately, KFC, known for its fried chicken, and finger-licking good, is also a messy fingers nightmare. So Wet Naps saved the day.
These disinfecting towelettes are pre-moistened with Isopropyl Alcohol 70 % and other chemicals. They usually come folded in little packets and wrapped individually.
These little wrapped cleaning towels doused in Isopropyl Alcohol 70% have been the best idea to clean your fingers after every few bites.
Wet Wipes and Isopropyl Alcohol 70% in Supermarkets
By the early '90s, most supermarkets carried their own branding of wet wipes. Reducing the cost with these store-bought brands but with the same excellent quality as the original wet wipes. And provide almost the same amount of hygiene as washing with soap and water because of its Isopropyl Alcohol 70% Content.
Most store-bought Wet wipes are treated with chemicals to preserve them. For example, a chemical preservative called methylisothiazolinone prevents fungal growth and harmful bacteria.
The Many Uses For Wet Wipes
There are many uses for wet wipes with Isopropyl Alcohol, 70% such as quickly cleaning countertops, wiping down toilet seats, and cleaning your steering wheel before and after use. Using these wipes, you can just use your imagination on all the things that can be swiftly cleaned.
If you would like to make all-natural wet wipes. You can easily do so using just a few ingredients. Using the Isopropyl Alcohol 70 % is essential as it will kill household bacteria.
Homemade Wet Wipes with Isopropyl Alcohol 70%
DIY cleaning wet wipes.
2 cups of water (Filtered tap water or distilled)
1 Tablespoon Dawn dishwashing liquid
1 Cup Isopropyl Alcohol 70 %
20 drops of lemon essential oil
1 teaspoon tea tree oil (for a natural preservative)
1 roll of bounty paper towels (or any other brand 2 ply or more)
Cylinder Canister container or Mason jar
Sharp knife to cut the paper towel roll
Mix the water, Isopropyl alcohol, 70% Dishwashing liquid, lemon essential oil, and tea tree oil with a spoon until combined.
Next, take your paper towels and cut them in half or just enough to fit into your Canister or mason jar.
Pour ingredients into the Mason jar or Canister until fully saturated. Let sit overnight, so it soaks up all the ingredients.
Now you can carefully remove the cardboard in the center and discard it.
And if you would like, you can pour a little more  Isopropyl Alcohol 70 % over the top of the wipes, but this is totally optional. It's kind of like little sprinkles on the cake.
Visit us on Pinterest!
https://flalab.com/wp-content/uploads/2022/06/DIY-wet-wipes.png
425
400
Romina
https://flalab.com/wp-content/uploads/2020/09/logo_flalab_3.png
Romina
2022-06-29 12:30:11
2022-06-29 12:30:11
DIY cleaning wet wipes