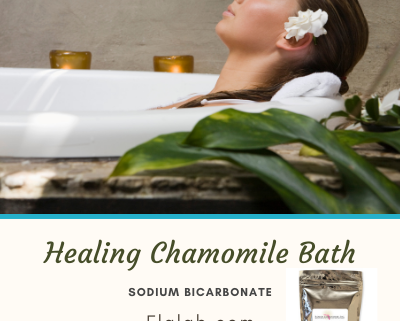 DIY Miracle Chamomile Bath
It's so wonderful to relax after a hectic day with a nice hot cup of Chamomile tea. So let's take it a step further and soak in a warm bath of Chamomile and Lavender. Chamomile is fantastic aromatherapy and not only calms your nerves but also treats various skin conditions such as dermatitis, acne, eczema. In addition, Chamomile is known to heal restless leg syndrome. So why not set it as a healing miracle bath of Chamomile with the magnificent scent of lavender?
Just 20 minutes, and you will feel revived, refreshed with unique soft skin as a bonus.
DIY Miracle Chamomile Bath
Ingredients:
4 Tablespoons Sodium Bicarbonate
Six drops of Chamomile Oil
2 drops Lavender oil
Recommended Supplies:
Storage Jar
Whisk
Bowl
Simple Directions:
Whisk all ingredients in a bowl, pour into a jar, and store.
To use: add the mixture to a steaming hot bath and soak for at least 20 minutes, then rinse off with warm water and towel dry. It's also an excellent remedy for tired feet.
Visit us on Pinterest!
Pure Sodium Bicarbonate / Baking Soda Food Grade 99% Purity
FlaLab.com your Sodium Bicarbonate supplier, carries varying sizes of this fine powder food-safe ingredient. It is better known as baking soda, and our 99% Pure USP quality base chemical will give the needed alkalinity to your product, project, or body needs. Quick Shipping always available at FlaLab.com
https://flalab.com/wp-content/uploads/2021/10/Chamomile-bath-1.png
425
400
Romina
https://flalab.com/wp-content/uploads/2020/09/logo_flalab_3.png
Romina
2021-10-15 14:52:28
2021-10-15 14:52:28
DIY Miracle Chamomile Bath