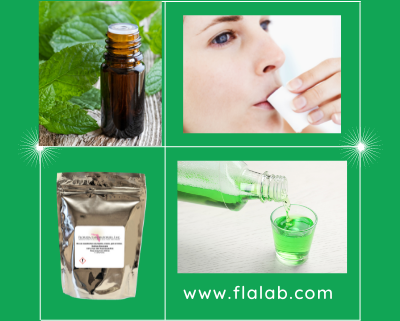 DIY Peppermint Patty Mouthwash
This homemade mouthwash recipe has a potent Peppermint Oil and Sodium Bicarbonate combination. Not only does sodium Bicarbonate whiten teeth, but it also destroys terrible breath odors.
Sometimes making your own mouthwash can be just as beneficial, if not more so, than store-bought versions. And, this peppermint oil mouthwash makes a great holiday gift. So, impress your friends and family this holiday season with your own creation. 
The peppermint oil will make your mouth feel fresh and help prevent disease-causing bacteria that can build up in the mouth. In addition, Peppermint oil can help if you have a toothache or have canker sores inside your gums.
DIY Peppermint Patty Mouthwash
INGREDIENTS:
½ cup aloe vera juice
1 tsp peppermint extract
½ cup distilled water
1 ½ tsp Sodium Bicarbonate
Three drops of Peppermint essential oil
One drop of green food coloring. (optional)
HOW TO MAKE
Making this mouthwash is easy.
First, add all ingredients to your bottle, close securely with lid.
Shake well until Sodium Bicarbonate dissolves and all ingredients are blended well.
Next, add the essential oils and adjust them according to your taste.
HOW TO USE:
Before each use, always shake your mouthwash, then Vigorously swish the rinse in your mouth after brushing.
Gargle a few minutes and spit out. Do not swallow the mouthwash.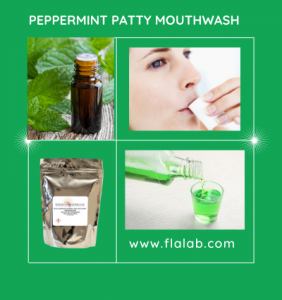 Pure Sodium Bicarbonate / Baking Soda Food Grade 99% Purity
Pure Sodium Bicarbonate USP Food Grade Bath Bomb Fizzies Baking Soda FlaLab.com your Sodium Bicarbonate supplier, carries varying sizes of this fine powder food-safe ingredient. It is better known as baking soda, and our 99% Pure USP quality base chemical will give the needed alkalinity to your product, project, or body needs. Quick Shipping always available at FlaLab.com
Warning:
Keep away from Children
Store in a cool and dry place.
*WE DO NOT SHIP CHEMICALS INTERNATIONALLY *
https://flalab.com/wp-content/uploads/2021/11/peppermint-1.png
425
400
Romina
https://flalab.com/wp-content/uploads/2020/09/logo_flalab_3.png
Romina
2021-11-05 12:10:41
2021-12-10 12:59:16
DIY Peppermint Patty Mouthwash