DIY Window Cleaner
History of Window cleaning
Back in the 1800's people would clean glass windows with plain old water and a rag. However, it wasn't until the 1900s that the squeegee was born. By the 20th century, the Chicago squeegee was the most widely used type, a big bulky piece of metal and rubber rake. However, it wasn't until the mid-1930s that the sleeker squeegee was Invented by an Italian man named Ettore Steccone. He had it patented, and his company Ettore Products is still the major squeegee marketer. The solution that is mainly used for cleaning windows with a squeegee is Isopropyl Alcohol 70 % water and vinegar mix.
The Invention of Windex
In the early 1900s, Phillip Drackett and his wife Sallie created a chemical company called The Dracket Company. They developed Windex as one of their first products. It was initially packaged in cans but later re-packaged in Glass, then finally plastic bottles. The Dracket company patented the shape of the plastic bottles. His wife Sallie came up with authentic ingredients, including 4.0% isopropyl alcohol, 1% ethylene glycol, sulfate, water softening agent, and blue dye. They later sold it to Johnson and Johnson, who now sells Windex in many colors.
The con to using Windex is it can leave streaks and peel tinted windows. It's better to make your own using a higher percentage of Isopropyl Alcohol, such as the one called for in this recipe "Isopropyl Alcohol 70% 
One of the best and most well-known window wiping methods is plain old newspaper as it leaves windows without that lint leftover drizzled on your windows.
Even though your windows will be clean from smudges and disinfected because of the Isopropyl Alcohol 70%, It's best Never to use anything to clean your windows made of cotton. Such as rags and paper towels. It's defeating the purpose of cleaning your windows. The cheapest way to clean your windows is to use a newspaper. The other way is to invest in a good microfiber polyester cloth.
DIY Window Cleaner
The secret to making a streak-free glass cleaner is using only a few simple ingredients, including Isopropyl Alcohol 70% and a few other natural ingredients.
DIY glass cleaner Recipe using Isopropyl Alcohol 70 %
Ingredients
1/2 cup apple cider vinegar (or White Vinegar)
1/2 cup Isopropyl Alcohol 70%
1.5 Tabs of cornstarch
Any essential oil of your choice-(optional)
Instructions
Mix all ingredients into a spray bottle.
Shake well
Visit us on Pinterest!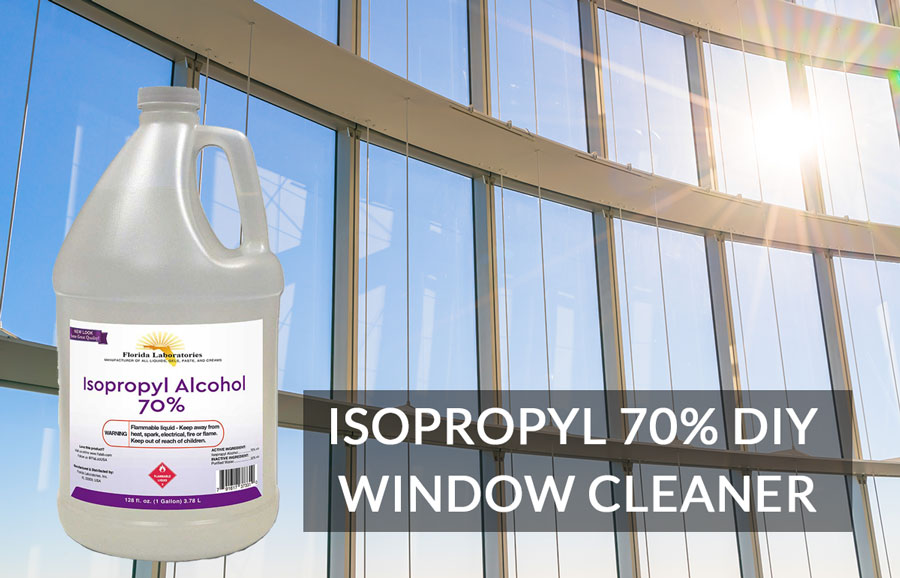 https://flalab.com/wp-content/uploads/2022/07/Isopropyl-70-DIY-window-cleaner.jpg
578
900
Romina
https://flalab.com/wp-content/uploads/2020/09/logo_flalab_3.png
Romina
2022-07-07 12:58:03
2022-07-14 15:32:42
DIY Window Cleaner