Electrostatic Sprayer for Disinfectants and Sanitizers
IN THIS DAY IN AGE ITS NOT ENOUGH TO JUST WIPE DOWN A SURFACE
---
Electrostatic Portable Disinfectant sprayers bring innovation to the healthcare practice, it has become the need of every home as consumers need convenient practices in the trend to ensure better health and fewer health complications. Experts believe that disinfection and cleaning combat infectious microbial growth and mitigate the risks of the health complications they may cause.
While gone are the days when disinfecting a residential or commercial place was a matter of weeks due to fewer facilities, non-portable devices, and expensive chemicals, not everyone could afford to make their space microbes-free. Over time, technology has made it possible, everything has been perfectly replaced by the newer, more advanced, affordable, and portable stuff so you could have the ceaseless experience to kill germs on the surfaces. Electrostatic Sprayer Multi-use Sprays are one of the innovative products to buy today. They enable you to disinfect your home in minutes without putting in a lot of effort and keep the growth of microorganisms at bay.
That's where our #1 selling rechargeable 'Electrostatic Sprayer ' can up your cleaning game!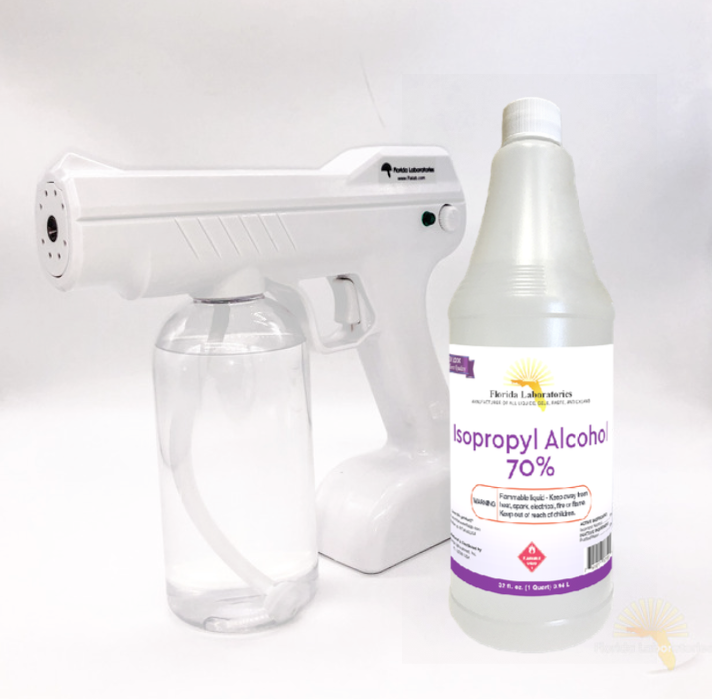 Our Electrostatic Sprayer is designed to be used with 70% Isopropyl Alcohol
To prepare, mix 1/3 of our 70% Isopropyl Alcohol and 2/3 water.
If you are on the hunt of an efficient and portable electrostatic Sprayer multi-use spray to help with the germs, then your research has reached the destination for sure, because here we are going to unearth the best disinfectant sprayer of the time – the top-picked one – Electronic sprayer for disinfectant, sanitizers, and cleaning. Yes, it is a multi-purpose sprayer with nano atomizers.
Though it comes with an endless number of benefits to harvesting for you and your space by ensuring healthcare standards are high, it is also perfect for residential and commercial places to disinfect in minutes. It is the #01 smart selling device and portable electrostatic sprayer to help you make your home germs-free through the roots.
We have covered a detailed review for you to understand electronic sprayer, and how it may benefit you, let's walk you through each feature.
Features and the benefits of Electronic Sprayer
---
Almost every brand out there claims to produce the best portable disinfectant sprayer but some of them barely survive the hype. It may be time-consuming at the consumer's end to look for the best on the list while some efficient, in reality, can cost an arm and a leg. But this review is surely going to help you make a wise decision. We have shortlisted the disinfectant sprayer for you to understand if it is going to work or not. Let's take a deeper dive.
The Electronic sprayer is the most-picked product these days consumers love it for its affordability and compatibility. It serves best to the residential places and also for small commercial places. The battery produces charges that penetrate the solution on the tank and upon spraying, the patterns are produced. It produces double-charged particles that are capable to envelop the conductive surfaces and kills germs effectively.
Specification of the item further asserts that this is an innovative product specifically designed for the current circumstances. Yes, with this, you are able to provide your family and kids with peace of mind. This rechargeable device is able to ensure that you and your family are in a good state of health.
While you may be curious about the price and the warranty? Are you? Don't worry we've covered the topics as well!
ISO Atomizor Specifications: