[bdp_ticker]
Diatomaceous Earth-Kills Fleas
Food Grade Diatomaceous earth is an extremely effective, safe all natural pesticide, perfect for killing fleas in your home and on your pet. You can use it on your floors, carpets and furniture.
Diatomaceous Earth (also known as DE) acts like salt in that it dries out the hard shell of the fleas body. Once the shell becomes dehydrated they die. It does not harm pets or humans.
Where to buy? We at Florida Laboratories sell 100% Pure Food Grade Natural Diatomaceous Earth in 1,2,3,5 and 10lb resealable bags or shaker.
How to use:
1. Sprinkle Diatomaceous earth over your floor, carpet, bedding and furniture and leave for up to 5 hours. it is safe to sprinkle a little on your pet.
For severe cases you can leave it up to 24 hours but it usually takes 4-5 hours to kill the fleas.
2. Once the time has expired, you can vacuum up the powder.
3. Toss all bedding, cushions and clothing into the washing machine and dry.
4. Repeat this treatment twice a week or as needed until you are rid of all the fleas
Diatomaceous Earth-Kills Fleas
Follow us on Pinterest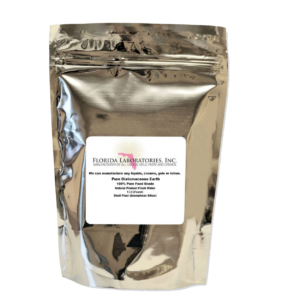 https://flalab.com/wp-content/uploads/2020/04/dog-2785066_960_720.jpg
640
960
admin
https://flalab.com/wp-content/uploads/2020/09/logo_flalab_3.png
admin
2020-04-14 00:00:00
2020-07-09 14:44:54
Diatomaceous Earth-Kills Fleas