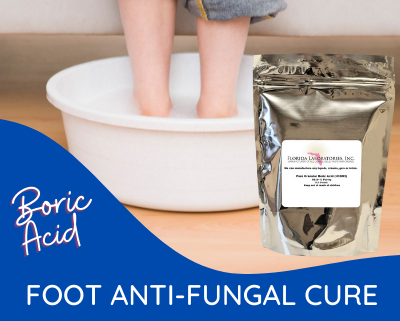 flalab.com
Foot Anti-fungal Cure Recipe
Sometimes we can tend to discredit the importance of foot health. We walk around barefoot and think nothing of it. However, staph infections and toenail fungus, a common infection under the toenail, can cause discomfort and issues wearing shoes.
In addition, foot fungal infections can be persistent and difficult to get rid of naturally. Athletes foot is just a simple name for 'Tinea Pedis" it causes a flaky, itchy rash between your toes and sometimes can be associated with ringworm. Fungus loves damp, wet environments, and it's highly contagious. So let's get you back to having a normal foot flora with our simple recipe.
Finally! A cure for embarrassing foot fungus and odor.
Boric Acid is a powerful and natural mineral that can kill athletes' feet and various other foot fungus issues. With this recipe, you will benefit from no more stinky feet!
Ingredients
1 Gallon of warm water
Two tablespoons boric Acid
1/2 cup apple cider vinegar
Two capfuls of hydrogen peroxide
Instructions:
Pour 2 tablespoons of Boric acid and one gallon of warm water into a foot basin.
Add 1/2 cup apple cider vinegar
Two capfuls of hydrogen peroxide
Soak your feet for 20 minutes
repeat once a week or until all the fungus is gone
Visit us on Pinterest!
Warning:
Keep Boric Acid from children
Precautions: Wearing loose-fitting clothes and gloves is recommended. Use goggles.
If there is a heavy dust occurrence, use a protective mask. Use with adequate ventilation.
Store in a cool and dry place.
First Aid Treatment:
If in contact with skin or eyes, wash with running water.
If inhaled, move the person to fresh air.
If ingested, drink water to dilute material in the stomach. Observe individual. If symptoms develop, seek medical attention.
*WE DO NOT SHIP CHEMICALS INTERNATIONALLY*
Other uses:
Treats wood against Fungai and insect invasions.
Prevents and destroys dry rot in timbers
Can prevent algae growth in a marine environment
Can be used for curing cattle hides such as sheepskins and calfskin's
Agriculture uses such as treating and preventing boron deficiencies in plants
https://flalab.com/wp-content/uploads/2021/10/Anti-fungal-Boric-acid-1.png
425
400
Romina
https://flalab.com/wp-content/uploads/2020/09/logo_flalab_3.png
Romina
2021-10-19 13:13:02
2021-12-01 17:23:50
Foot Anti-fungal Cure Recipe