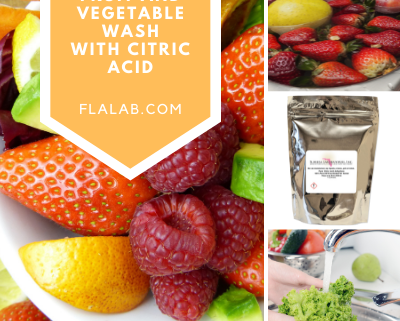 Fruit and Vegetable wash with Citric Acid
The best way to avoid food contamination is to rinse off your fruits and vegetables immediately before consumption.
There are a plethora of different types of pesticides approved by the EPA. The Epa establishes maximum legally permissible levels of pesticide residue in food. The EPA's pesticide programs must be registered or exempted before distributing them throughout the United States. Pesticides are essential in preventing disease, but at the same time, we do not want to ingest too much of these pesticides.
The first step is to wash your fruit and vegetables with cold water to remove up to 85% of viruses and bacteria and any residual pesticides. Permanently remove excess water. This still leaves 15 percent of toxins possibly left on your produce. You may never altogether remove the pesticides, but you can come close.
The most effective way is to make your cold water rinse more acidic.
Fruit and Vegetable wash with Citric Acid.
Directions:
You will want to add
1 Tablespoon of citric acid to 1 gallon of water and soak for 15 minutes.
Be sure to rinse off in cold water.
Another option is to make a spray using an empty spray bottle.
Ingredients.
10 drops Lemon essential oil
1/2 teaspoon of citric acid
1 cup filtered water
One tablespoon dishwashing liquid
Directions:
Pour all the ingredients into the spray bottle and shake. Spray on fruit and vegetables and after 2 minutes, rinse off with cold water, and your food is ready to eat.
Check out our other uses for Citric Acid.
History of Citric Acid:
Citric acid exists in various fruits and vegetables; most of them come from citrus fruits such as lemon and limes.
Citric acid was first isolated in 1784 by the chemist Carl Wilhelm Scheele, who crystallized it from lemon juice.
Citric acid production first began in the mid-1800s based on the Italian citrus fruit industry. The juice was treated with hydrated lime (calcium hydroxide), which was isolated and converted to the acid using diluted sulfuric acid.
In 1893, C. Wehmer discovered Penicillium mold could produce citric acid from sugar. However, microbial production of citric acid did not become industrially important until World War I disrupted Italian citrus exports.
In 1917, American food chemist James Currie discovered certain strains of the mold Aspergillus niger could be efficient citric acid producers. Pfizer began industrial-level production using this technique two years later.
In this production technique, which is still the major industrial route to citric acid used today, cultures of A. niger are fed on a sucrose or glucose-containing medium to produce citric acid. The source of sugar is corn steep liquor, molasses, hydrolyzed corn starch, or other inexpensive, sugary solution.
After the mold is filtered out of the resulting solution, citric acid is isolated by precipitating it with calcium hydroxide to yield calcium citrate salt. Finally, citric acid is regenerated by treatment with sulfuric acid, as in the direct extraction from citrus fruit juice.
https://flalab.com/wp-content/uploads/2021/08/citric-acid.png
425
400
Romina
https://flalab.com/wp-content/uploads/2020/09/logo_flalab_3.png
Romina
2021-08-27 12:06:29
2021-08-27 12:06:29
Fruit and Vegetable wash with Citric Acid