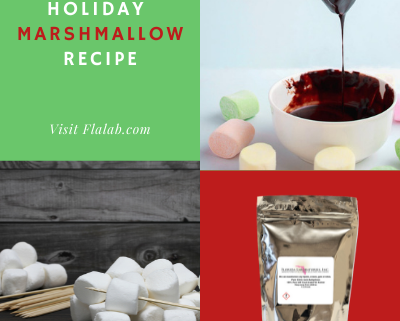 Holiday Marshmallow Dip
Any Holiday or special occasion is the perfect time to enjoy chocolate-dipped marshmallows. Whether it's a date night or just a friendly get-together, dipping marshmallows in this delightfully decadent chocolate candy mouthwatering treat will make any occasion delicious.
And to make sure this recipe stays fresh, we added some citric acid to the recipe for longevity so you can save the dip in the fridge with no bacterial growth and spoilage. Holiday Marshmallows Recipe
Ingredients:
1 cup water
¼ cup lemon juice, freshly squeezed
1/4 cup gelatin powder
2 cups granulated sugar
1/4 teaspoon salt
One tablespoon of lemon zest
7 drops of green food coloring (*optional)
Two teaspoons of citric acid
12-ounce bag of Red chocolate candy melts
Skewer sticks
Directions:
Line a 9×9-inch pan with foil, and you can use either olive oil or vegetable spray to coat the pan.
In a mixing bowl, pour 1/2 cup of water, put the gelatin in, and mix with a fork until blended.
In a saucepan, pour 1/2 cup of water, lemon juice, and sugar and bring to a boil.
Remove the saucepan from heat and pour in the green food coloring.
In your blender, pour in your gelatin mix and hot syrup and blend for 3 minutes. Add salt and citric acid.
Your mixture will form stiff peaks.
Pour the mixture into your 9 x 9-inch pan and cool and dry out overnight.
 The next day, remove from the pan and cut with a greased knife.
Place 3-4 marshmallows on the skewers or sticks.
Prepare your red Candy Melts according to the instructions.
Dip half the marshmallow pop into red candy melts, and set aside to harden.
You should have half green and half red marshmallows.
Enjoy!
Visit us on Pinterest!
https://flalab.com/wp-content/uploads/2022/06/holiday-marshamallows.png
425
400
Romina
https://flalab.com/wp-content/uploads/2020/09/logo_flalab_3.png
Romina
2022-06-03 12:41:28
2022-06-03 12:41:28
Holiday Marshmallow Dip