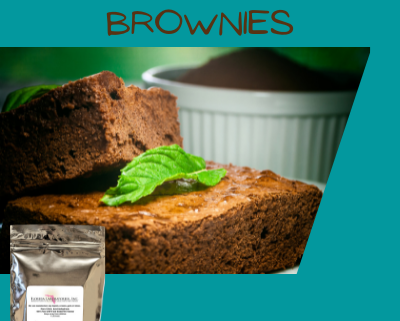 Homemade Chocolate Mint Brownies
Homemade Chocolate Mint Brownies-These mint chocolate brownies will melt in your mouth. If you love chocolate brownies, then this recipe will blow you away.
It's not too sweet, and if you omit the sugar, it will be a tremendous low-carb treat.
INGREDIENTS:
8 oz butter room temperature
1/2 tsp salt
1/2 tsp citric acid
4 tbsp Sugar or Truvia
4 oz Sour cream
3 Eggs.
1 tsp Sodium Bicarbonate
4 tbsp chocolate powder
Ten chopped mint leaves
5 drops Mint oil
1 tsp cinnamon
1 tbsp psyllium powder
INSTRUCTIONS:
Blend the butter, sugar, citric acid, cinnamon, and salt until creamed. Slowly add the rest of the ingredients.
Grease a baking sheet with oil or butter and pour the mixture into the pan.
Bake at 375 for 12-15 minutes or until the testing knife comes out clean. Remove from oven and let cool down. Cut into bars and add the fresh mint.
Visit us on Pinterest! 
*Citric Acid is a natural and high-quality preservative. When Used in this recipe, it will keep any bacteria from growing on your food so it will last much longer when refrigerated.  Citric acid mixed with Sodium Bicarbonate enhances the leavening power of sodium bicarbonate making it the perfect secret ingredient.
https://flalab.com/wp-content/uploads/2022/01/brownies-1.png
425
400
Romina
https://flalab.com/wp-content/uploads/2020/09/logo_flalab_3.png
Romina
2022-01-13 14:30:04
2022-01-13 14:30:04
Homemade Chocolate Mint Brownies