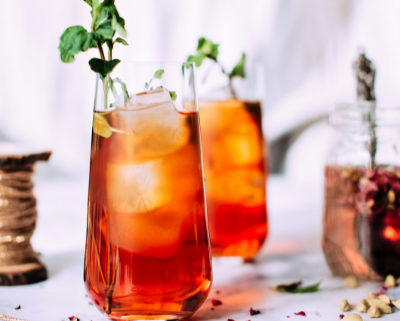 Homemade Ice Tea with Citric acid
Our Ice Tea with Citric acid recipe is so hydrating and thirst-quenching. Ice tea is a healthy substitute for water and has some other surprisingly nutritional benefits. It is an excellent way to boost your antioxidants and helps keep your digestive system running smoothly.
In addition, drinking ice tea can increase your bone density and prevent osteoporosis. It's also been known to lower blood sugar levels and reduce stress.
But most importantly, it will keep you well hydrated.
Ingredients:
11 tea bags (any tea bag will do, but we recommend Lipton tea bags)
3 cups boiling water
Tea concentrate:
One tablespoon of food-grade citric acid
8 cups water
Add sugar or sugar substitute according to your taste.
Instructions:
1. Place 11 plain tea bags in boiling water according to the tea bags directions
2. Mix the tea concentrate with sugar to taste, one tablespoon of food-grade citric acid with 8 cups of water.
*If you want your tea lighter, add more water.
Ice Tea with Citric acid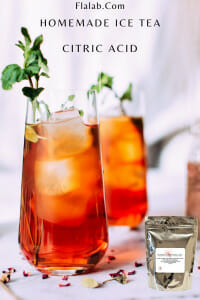 Visit us on Pinterest!
What is Citric acid?
Citric acid exists in a some  fruits and vegetables, such as citrus fruits. Lemons and limes have very high concentrations of the acid and can constitute as much as 8% of the dry weight of these fruits  The concentrations of citric acid in citrus fruits range from 0.005 mol/L for oranges and grapefruits to 0.30 mol/L in lemons and limes; these values vary within species depending upon the cultivar and the circumstances in which the fruit was grown.
Fun fact: Citric acid was first isolated in 1784 by the chemist Carl Wilhelm Scheele, who crystallized it from lemon juice.
https://flalab.com/wp-content/uploads/2021/07/ice-tea-1.png
425
400
Romina
https://flalab.com/wp-content/uploads/2020/09/logo_flalab_3.png
Romina
2021-07-09 13:39:25
2021-07-12 14:02:32
Homemade Ice Tea with Citric acid