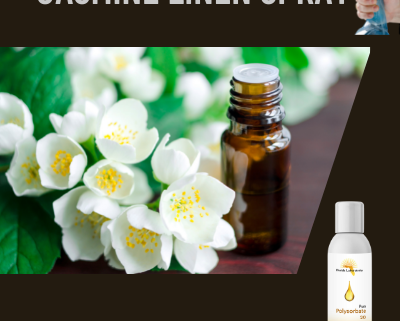 Homemade Jasmine Linen Spray
Homemade Jasmine Linen Spray-This Linen spray is the perfect remedy for a good night's sleep. Spray it on your pillow and wake up alert and refreshed. Not only will this Jasmine linen spray help you sleep better it also can provide relief from any cold or congestion. In addition, Jasmine is known to clear your nasal passages and eliminate late-night coughing, wheezing, and snoring. Polysorbate 20 is safe and used for hundreds of years in most cosmetics.
This unique and simple recipe will be your secret weapon for a good night's sleep.
4oz. distilled water
4 oz. 99% Isopropyl alcohol
40 drops Jasmine essential oil
80 drops polysorbate 20
spray bottle
Small, dark glass spray bottle
Measuring cup
Funnel (optional)
Start by mixing the  40 drops of Jasmine oil with  80 drops of Polysorbate 20. Set it aside for 10 minutes.
Mix 4oz. of distilled water with 99% Isopropyl Alcohol and pour into your spray bottle.
Add the Jasmine oil and polysorbate mixture and shake until thoroughly mixed.
*Polysorbate 20 (commercially called Tween 20) is derived from sorbitol, a natural sugar alcohol. It forms a polysorbate-type nonionic surfactant by the ethoxylation of sorbitan (derived from the dehydration of sorbitol) before adding lauric acid.
Visit us on Pinterest!
https://flalab.com/wp-content/uploads/2022/01/Jasmine-Linen-spray-1.png
425
400
Romina
https://flalab.com/wp-content/uploads/2020/09/logo_flalab_3.png
Romina
2022-01-17 16:23:07
2022-01-17 16:23:35
Homemade Jasmine Linen Spray