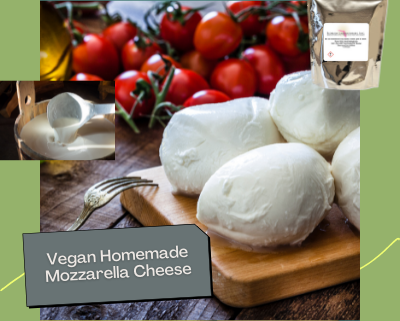 Homemade Mozzarella Cheese Citric Acid
Homemade Mozzarella Cheese Citric Acid-Fresh Vegan Mozzarella has endless possible uses. You can use it for snacking purposes, or you can add it to your favorite pasta dishes. If you are a salad lover, you can make a tasty Caprese salad with fresh basil, heirloom tomatoes, and some virgin olive oil.
Besides your salads and pasta dishes, it partners nicely with peaches, melons, pears, and berries. You can use your imagination and your taste buds and come up with thousands of ideas for paring your Vegan mozzarella cheese.
Mozzarella has historically been made with Rennet. Rennet exists within the stomaches of goats, sheep, and calves, and the Rennet is considered a cheese enzyme. Cheese Enzymes break away the solid particles in milk away from the water to form a solid mass.
In this recipe, we will use Vegetable rennet suitable for laco-vegetarians and anyone on a kosher or halal diet. You can purchase Vegetable rennet in liquid or tablet form.
Ingredients
8 Tablespoons of water + 1/4 tablet Vegetable rennet, Dissolved.

1 1/3 cup cold water + 1 1/4 teaspoons Citric acid, Dissolved.

4 quarts of unpasteurized milk.
Homemade Mozzarella Cheese Citric Acid
Instructions:
Dissolve the citric acid in 1 1/3 cup of water.

Then, in a separate bowl, dissolve the vegetable rennet in 1/4 cup water.

Pour dissolved citric acid and water into a large pot.

Next, pour the four quarts of milk into the pot, stirring continuously until the citric acid is distributed evenly throughout the milk.

Heat milk to 90 degrees Fahrenheit

Take off heat and add dissolved vegetable rennet.

Stir the Rennet into the milk. Stir and Stop as soon as you notice the milk is thickening. Let the milk sit until the curd is firm. (about half an hour) Stir curd and whey for 2 minutes.
Next steps:
Put the pot back onto the burner and heat slowly, stirring gently but constantly, until the whey reaches 110 degrees Fahrenheit for pasteurized milk.

Drain the whey off and save it for another use.

Heat the drained curd in a microwave on high for 1 minute. Stretch and knead the curd-like taffy.

Heat another 30–60 seconds and pull until it's glossy and can be formed into a ball.

Place the cheese ball in the refrigerated water for 15 minutes. Add ice and chill another 1 1/2 hours.

Drain off water and store the cheese in a plastic bag or plastic container. 
Click here to purchase Citric Acid from Florida Laboratories.
Visit us on Pinterest!
https://flalab.com/wp-content/uploads/2021/09/Citric-acid-Mozzarella-1.png
425
400
Romina
https://flalab.com/wp-content/uploads/2020/09/logo_flalab_3.png
Romina
2021-09-02 13:38:24
2021-12-17 13:55:42
Homemade Mozzarella Cheese Citric Acid