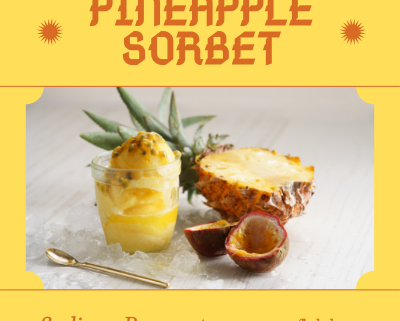 Homemade Pineapple Sorbet
Sorbet is a great and refreshing dessert; it's lower in fat than Ice cream and is non-dairy, so it's perfect for vegetarians and lactose intolerants. In addition, Sorbet is simple to make at home, and you can make it in almost any flavor you wish.
We are using fresh Pineapple in this recipe, but you are welcome to use canned pineapple chunks. You can also add this Sorbet to your favorite adult beverage, which originates from Italy; it's called Sgroppino. Italian aristocrats would serve Sgroppino in between meal courses to cleanse the pallet. But you can also use Sorbet minus the alcohol as a pallet cleanser.
However, you might be wondering what the difference is between Sorbet versus Sherbert? Sherbert is a Dairy dessert made with frozen fruit, and therefore it is not vegan and has more fat. So here is our fantastic Pineapple Sorbet recipe.
Homemade Pineapple Sorbet
Ingredients:
4 cups fresh Pineapple
8 tbsp Stevia (or to taste)
1/2 cup water
1/2 cup heavy cream whipped
2 tsp Juice of a lemon
1/3 teaspoon of Sodium Benzoate.
Instructions:
In a blender, Place the Pineapple, Stevia, and water and process until it is smooth.
Add in 1/3 teaspoon of Sodium Benzoate to preserve your Sorbet.
Then pour in the Heavy whipped cream along with the lemon juice and blend all ingredients.
Freeze up to 4 hours.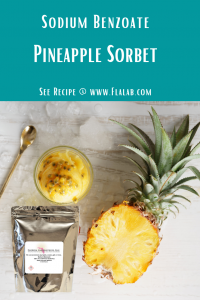 Visit us on Pinterest!
Read other recipes using Sodium Benzoate here
Sodium Benzoate is a preservative that can be used in your recipes to extend shelf life and prevent bacterial and mold growth.
It also helps maintain freshness in food by helping to slow or prevent changes in color and flavor.
SB is the first preservative approved by the FDA and is safe to use in all of your recipes as long as you follow the general rule. It's classified as Generally Recognized As Safe (GRAS.)
Check back often since we will be adding more original recipes to this list.
You can purchase Sodium Benzoate from our online shop.
https://flalab.com/wp-content/uploads/2021/08/Pineapple-Sorbet-1.png
425
400
Romina
https://flalab.com/wp-content/uploads/2020/09/logo_flalab_3.png
Romina
2021-08-13 12:12:22
2021-12-28 14:56:35
Homemade Pineapple Sorbet