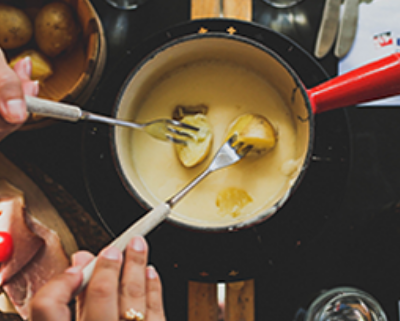 Homemade Queso Dip
This homemade Queso Dip is easy to make and perfect for any occasion. You can serve it as an appetizer or as a dip for your late-night munchies.
A typical food additive, sodium citrate, keeps the water and fat emulsified while the cheese is melting; the best thing about using Sodium Citrate is it prevents any lumps in your cheese, rendering a perfectly smooth and creamy Dip.
Ingredients:
1 1/4 cups of Coldwater
2 Teaspoons of Sodium Citrate
4 cups grated Gruyères, Switzerland cheese
Instructions:
Combine water and sodium citrate in a pan (dissolve over medium heat)
While whisking, gradually adds the cheese.
Makes five servings
store in the freezer for up to 2 months
lasts one week in the refrigerator
Sodium Citrate is used as a natural food preservative. Some of the benefits of using Sodium Citrate as a Food additive include better circulation and blow flow as well as balancing out Ph levels in the body. It is also a powerful source of antioxidants.
It is a non-toxic, neutral salt with low reactivity. It is chemically stable if stored at ambient temperatures. Trisodium citrate dihydrate is fully biodegradable and can be disposed of with regular waste or sewage. Trisodium citrate dihydrate is widely used in foods, beverages, and various technical applications mainly as buffering, sequestering, or emulsifying agents. Trisodium Citrate Dihydrate may be stored for 36 months from the date of manufacture in the unopened original container. Relative humidity of 50% and a temperature range of 10–30°C are the most suitable conditions for storage.
Complete your chemical order with FlaLab.com USP Food Grade Sodium Citrate.
Homemade Queso Dip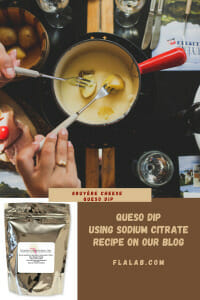 Visit us on
Pinterest!
Sodium citrate is the sodium salt of citric acid. It is white, crystalline powder or white, granular crystals, slightly deliquescent in moist air, freely soluble in water, practically insoluble in alcohol. Like citric acid, it has a sour taste. From the medical point of view, it is used as an alkalinizing agent.
https://flalab.com/wp-content/uploads/2021/04/Queso-Dip-2.png
425
400
Romina
https://flalab.com/wp-content/uploads/2020/09/logo_flalab_3.png
Romina
2021-04-29 23:12:19
2021-07-22 14:34:18
Homemade Queso Dip