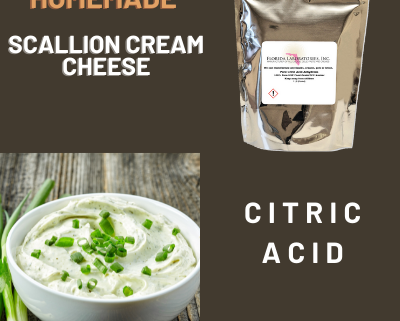 Homemade Scallion Cream Cheese
Homemade Scallion Cream Cheese-Not only is this the Creamiest Cream Cheese, but It's also relatively simple to make. And if you like onions, scallions are a close second and offer a more subtle flavoring than actual onions. This Scallion Cream Cheese is perfect on any bagel, or you can enjoy putting on toast or a waffle and even enjoy it as an egg omelet topper.
One Liter of Milk`
One teaspoon Citric Acid
1/2 cup of warm water
Two Tablespoons Freshly chopped Scallions.
Boil the milk in a pan. Once boiled, set aside.
In a separate bowl, mix the citric acid with warm water.
Pour Citric acid mix into the milk and
wait 10 minutes until it curdles.
Blend the milk solids in a food processor until its creamy.
Pour in Scallions and mix until combined.
Visit us on Pinterest!
Citric acid is organically concentrated in a variety of fruits and vegetables such as lemons and limes. citric acid is a weak acid, with a pH level between 3 and 6.
Citric acid is added to many recipes to prevent botulism and other harmful growths.
Allow FlaLab.com to supply your Citric Acid needs in various sizes. This common food additive is processed in a high-quality laboratory for 100% Pure USP/FCC Food Grade results. Fast Shipping available now at FlaLab.com
https://flalab.com/wp-content/uploads/2022/02/Homemade-Scallion-Cream-cheese-1.png
425
400
Romina
https://flalab.com/wp-content/uploads/2020/09/logo_flalab_3.png
Romina
2022-02-09 13:56:17
2022-02-09 13:56:17
Homemade Scallion Cream Cheese