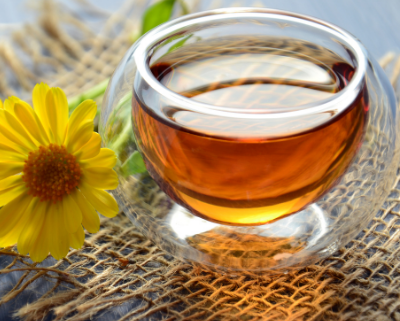 Honey & Beer Soap
Honey & Beer Soap-In This Honey & Beer Soap Recipe, we are going to make Lye. What is Lye? Lye is a strong alkali known as sodium hydroxide and is used as a base in soap making. In order to make this recipe, we are going to make a lye solution. We will make this first and set it aside.
Ingredients for the Lye:
3.8 oz Sodium Hydroxide
7 oz water
Special Equipment needed:
Digital Thermometer
Digital Kitchen Scale
Stick (Immersion) Blend
Ingredients: Makes 8 Bars of Soap
6.8 oz. palm oil
10.2 oz. coconut oil
1.7 oz cocoa butter
10.2 oz. olive oil
1.7 oz. castor oil
4.9 oz. lye
11.3 oz. Flat Dark beer
2 tbs. of honey
4 oz. orange essential oil
4 oz. Lemon essential oil
4 oz. lime essential oil
Heat your Oils:
On very low heat, melt your solid oils until there are just a few solid bits floating around. Take the pan off the heat and stir until the oils are melted.
In a separate pan Heat your Lye solution:
Pour the liquid oil through a sieve and into the melted oils. The sieve stops chunks of color from getting into the soap.
Take the temperature of both the oils in the pan and the lye solution. The oils should be within 110-135°F and the lye solution should be within ten degrees of the oil's temperature but lower than 135°F. When they're just right, pour the lye solution into the pan through the sieve.
What is Trace? Trace is a point in the soap-making process when oils and the lye have emulsified. Once the lye and oils are mixed and the two will not separate the soap recipe has reached "trace"
Bring to a Trace
Using your stick blender, alternate pulsing and stirring until your oils and lye are blended (reaching "trace")and they no longer separate. Once this is achieved
Stir well and then pour the soap into the mold.
Insulate
Slide your molded soap into a cardboard box and close it up. Cover the outside with a towel to keep the heat in.
Cutting & Curing
After 24 hours you can pop the soap out of the mold and cut it up using a kitchen knife or thin metal wire. Afterward, space your bars out on a piece of wax paper in an airy place that's out of direct sunlight. Leave the soap there to 'Cure' for four weeks before using. This time allows the water content in the soap to evaporate out.
After 30 days, your handmade Honey Beer Soap is ready to be used.
To preserve the scent, store your bars in a sealed tub after the curing time is up.
Honey & Beer Soap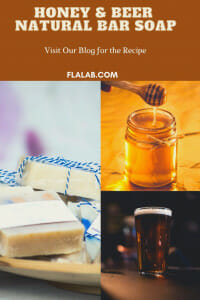 Visit us on Pinterest!
https://flalab.com/wp-content/uploads/2021/04/honey.png
425
400
Romina
https://flalab.com/wp-content/uploads/2020/09/logo_flalab_3.png
Romina
2021-04-29 22:14:48
2021-07-22 14:30:21
Honey & Beer Soap