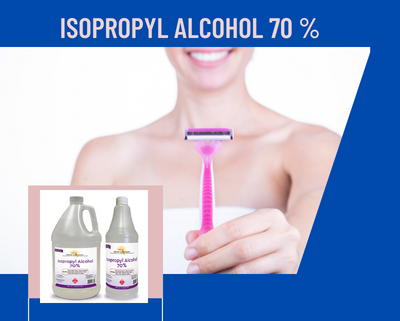 How to clean your razors with Isopropyl Alcohol
History
Here is a little bit of history about Isopropyl Alcohol. It was first produced in 1920 by chemists at Exxon Mobil (formerly the standard oil company of NJ). It is easily synthesized from the reaction of propylene with sulfuric acid, followed by hydrolysis.
Before 1920 we had a few people pass away before their time due to simply shaving with a dirty, bacteria-infected razor. People in those days knew that going for a shave could be a risky business. But the clean-cut look has always been fancied by the ladies. So they took their chances.
But back in those days, they didn't have disposable razors, just highly sharp, dangerous straight-edge razors.
In 1915 a well-known Russian pianist named Alexander Scriabin Succumbed to the nasty slight razor nic. At the height of his career, Scriabin died in Moscow on the same date his lease expired of an upper lip pimple that he produced after shaving with a toxically dirty razor.
Health Risks
Imagine if he just had The luxury of Isopropyl Alcohol? Maybe he could have lived another thirty years if he could disinfect his razors with isopropyl alcohol.
Carelessness and unsanitary conditions can pose a severe health risk for shaving with a germ-infested razor.
For example, a woman recently developed a flesh-eating disease after shaving her bikini line. She thought she had tiny shaving pimples until one started to bleed and a horrible red rash spread equally from one leg to another. The doctors diagnosed her with necrotizing fasciitis, an infection renowned for attacking a person's flesh. It took over 20 surgeries to salvage what was left of her burnt black corroded skin.
The Importance of Clean Razors
These stories alone should create awareness of the importance of cleaning your razor blades with isopropyl alcohol 70 %. More recently, a young man in California borrowed his roommate's razor. He suddenly developed a rash on his chin, which was a flesh-eating bacteria disease. He was very fortunate and survived the ordeal after taking antibiotics. However, it could have been much worse, or he could have prevented it by just using proper razor cleaning methods.
The first step would be to Submerge your razor in alcohol for about 10 minutes. Then let it air dry for a few minutes, and you should be good to go.
Mindfulness
So a word to the wise, never share or use someone else's razor. However, if you genuinely have no other choice, then soak it in the isopropyl alcohol 70 % solution, and that should kill off any sneaky pesky evil lurking bacteria.
These days we take things for granted and quickly take out our razors and press them to our skin without a second thought. But unfortunately, we do still have illnesses and injuries from razor cuts and burns. So it's a good habit to get into and consistently clean your razors with isopropyl alcohol 70%
The Solution
The Best way to clean your razors is with Isopropyl Alcohol.
The 70% solution (70% alcohol/30% water) is the best strength to clean your razors and prevent any nasty skin rash or infection from using rusted and contaminated razors. When you use your razor in the shower and leave it damp, fungal grows on your razor and is usually invisible to the naked eye.
Using Isopropyl Alcohol 70 % Solution to clean and disinfect your razors, you will avoid other common skin manifestations such as ringworm and staphylococcus infection (staph infection), also called the Staph Aureus can spread like wildfire. Additionally, you can quickly transfer bacteria from one part of your face to another while shaving. Finally, if you nic your skin, you're creating an entry point for blood viruses like Hepatitis B & C. Another reason to clean your razors with isopropyl alcohol is 70% after each use.
No one likes to be in the middle of shaving to find your razor is dull and lifeless. You can reduce the number of times this happens just By Using Isopropyl Alcohol for 70% to clean and extend the life of your disposable razors and keep the edges sharp. In addition, by soaking your razors in Isopropyl Alcohol at 70 %, you will be saving money in the long run because you will no longer have to buy disposable razors as often.
You know those little bumps you get after shaving? You can also reduce the number of spots and pimples after each shave by simply disinfecting the razors immediately before and after each use.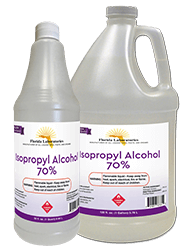 Visit us on Pinterest!
https://flalab.com/wp-content/uploads/2022/06/How-to-clean-your-razors-1.png
425
400
Romina
https://flalab.com/wp-content/uploads/2020/09/logo_flalab_3.png
Romina
2022-06-07 13:31:24
2022-06-15 13:16:38
How to clean your razors with Isopropyl Alcohol