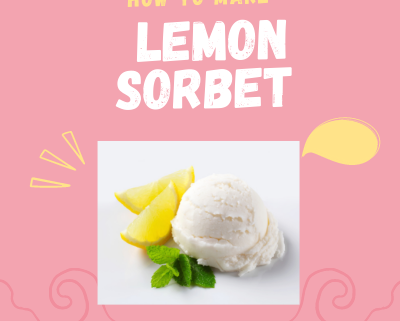 How To Make Lemon Sorbet
Who says you can't enjoy Ice cream if you can't have milk? Sorbet is just as tasty and refreshing as ice cream. One fact about Sorbet is it has twice as much sugar, but that's OK. We all deserve to treat ourselves once in a while, right?. For those of you looking for a fat-free substitute for ice cream, then this will be the perfect recipe for you. All you need is a little Ice cream maker and just a few ingredients. If you would like this recipe to be stored safely, we recommend using sodium benzoate to prevent any bacterial growth on your Lemon Sorbet.
Ingredients
1 3/4 cups water
2 cups sugar
2 cups freshly squeezed lemon juice
Two tablespoons grated lemon zest
1/3 teaspoon of sodium Benzoate
For this recipe, You will need an Ice cream maker. If you're on a budget, You can find some inexpensive ones on amazon.
You can purchase sodium benzoate from the Florida Laboratories shop page
Instructions:
In a small saucepan over medium-high heat, combine the sugar with water, and boil until the sugar dissolves, about 2 minutes.
Remove from heat and allow to cool. Stir in the lemon juice and lemon zest, add the sodium benzoate to the hot mixture, then pour into the bowl of an ice cream maker.
Churn according to manufacturer instructions. When the Sorbet has frozen, transfer to a storage container, cover tightly and freeze until ready to serve. The Sorbet will solidify in the freezer.
https://flalab.com/wp-content/uploads/2021/05/lemon-sorbet-1.png
425
400
Romina
https://flalab.com/wp-content/uploads/2020/09/logo_flalab_3.png
Romina
2021-05-25 20:54:46
2021-08-12 13:30:08
How to make Lemon Sorbet