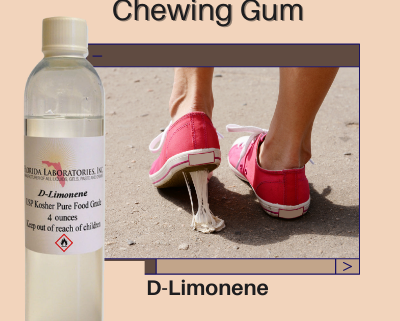 How to Remove Chewing Gum
Have you ever used a knife to remove chewing gum or tar stuck to the sole of your shoes or sneakers? How about when you get gum on your wooden table or floors?
Sure, you may get rid of some of it with that technique, but you will also ruin your shoes and furniture and still have traces of the gum residue left behind. So with a few simple ingredients, you can create Our all-natural Spray with D-limonene, which is an excellent solution to clear any traces of gum stains. Always keep a batch on hand in case you need to remove tar or gum quickly.
Ingredients:
3 tbsp                          D-Limonene
3 tbsp                          Polysorbate- 20
2                                   cups warm water
3 tbsp                          White Vinegar
3 tbsp                          Liquid Castile Soap
2 tsp                            Borax Powder
 Directions:
1. In a large measuring cup, mix the D-Limonene & Polysorbate 20.
2. Add all other ingredients mixing slowly.
3. mix in borax and make sure it is dissolved.
4. Pour into a spray bottle.0
5. Shake and spray
Let sit for 20 minutes, and then you can wipe down with a dry rag.
Visit us on Pinterest!
Where to buy D-Limonene?
Refresh your supplement cabinet with FlaLAB.com  Our 100% Kosher, FOOD Grade Citrus Oil is a solvent and has major benefits in increasing the overall wellness of the body. It can be added to foods, drinks, soaps or body care products for hydration benefits or flavor and fragrance enhancers.
where to buy D-Limonene?
Check out our Blog for another  homemade recipe using D-limonene
https://flalab.com/wp-content/uploads/2021/11/D-limonene-chewing-gum-1-1-1.png
425
400
Romina
https://flalab.com/wp-content/uploads/2020/09/logo_flalab_3.png
Romina
2021-11-09 14:16:42
2021-12-01 16:34:24
How to Remove Chewing Gum