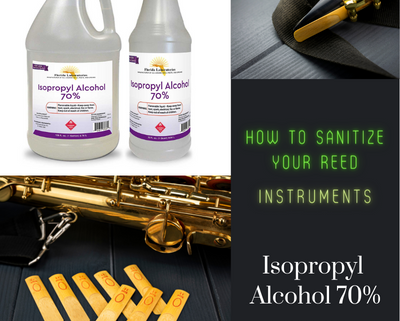 How to Sanitize your Reed Instruments
With Isopropyl Alcohol, 70 %
Whether you play a reed instrument as a hobby, play in an orchestra or have a child in the school band, it's essential to be mindful of reed hygiene. It's very easy to forget, especially when you are in a rush. But remember, not being conscious of disinfecting your reeds can get you and your loved ones sick. With all the different types of bacteria and viruses going around these days, such as covid, e-Coli, salmonella, and hundreds of other germs, it's essential to get into the habit of disinfecting your reeds with isopropyl alcohol 70% as a routine preventative measure.
Reed instruments usually have a piece of wood or plastic that vibrates when you blow air into or across it. There are a few different types of reed instruments. The single reed instruments, which are most popular, are the clarinet and the saxophone, and the Double Reed, most notably the Bassoon, oboe, bagpipes, and English horn.
An important thing is keeping your reed germ free. That's why it's imperative to practice proper hygiene after each session.
An excellent way to accomplish this is by using 70 % Isopropyl Alcohol. 
Using a small bowl, pour the 70 % Isopropyl Alcohol into your bowl and let it soak for a few minutes. Then, be sure to rinse off your reed thoroughly and let dry.
Types of Reeds
The cane reed:
Most reeds are made from a colossal cane plant that looks like bamboo; these plants grow tall and are sometimes found in the United States, France, and Argentina. It needs to grow in damp soil, so you will often find these plants by a freshwater supply. Unfortunately, these natural reeds can sometimes grow fungi and black mold. To avoid putting your mouth on a moldy reed, soak in your 70 % Isopropyl Alcohol for at least a minute or longer.
Synthetic Reed:
Synthetic reeds are made of composite materials such as polypropylene; these synthetic reeds can last anywhere from 1-6 months, depending on how often you use your reed.
Synthetic reeds can still have bacteria buildup. Not as much as the cane reeds, but it still can be a sanitary concern. You can clean the synthetic the same way you would the cane reed by soaking it in a cup of Isopropyl Alcohol 70%, rinsing it off afterward, and simply drying it with a microfiber cloth.
Reed Cases
It's imperative that you remove your reed from your instrument after each playing session and place it in your reed case. The reed case will protect your reed from drying out and losing its playability. But remember to disinfect by soaking it in a solution of isopropyl alcohol 70%. Let sit, then wait until it is scorched before placing it in your reed case.
You also want to ensure you buy a reed case with proper airflow. Again, they have different types depending on whether you have a single or double reed instrument.
How to Sanitize your Reed Instruments
Visit us on Pinterest!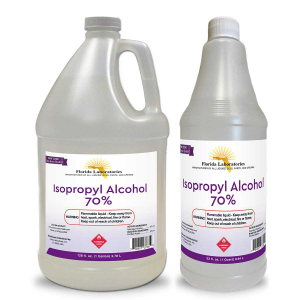 https://flalab.com/wp-content/uploads/2022/08/reed2.png
425
400
Romina
https://flalab.com/wp-content/uploads/2020/09/logo_flalab_3.png
Romina
2022-08-05 13:33:36
2022-08-05 13:37:02
How to Sanitize your Reed Instruments