Isopropyl Alcohol 70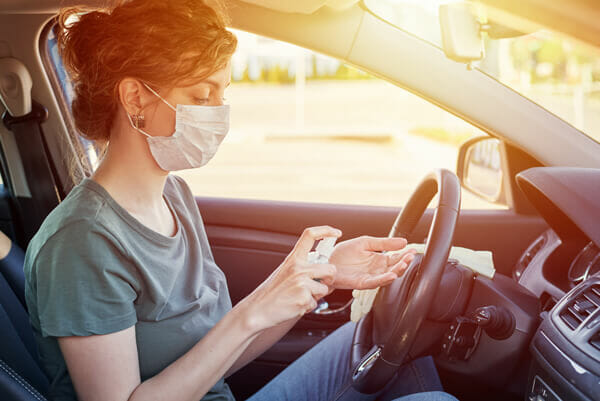 In times like these, where the world is surrounded by a pandemic caused by a potentially lethal virus, are you looking for a safe way to protect you and your family from the deadly covid-19? Isopropyl alcohol 70 is the best solution to your problems. Chances of you and your loved ones falling prey to this virus will be reduced. All you have to do is disinfect the most-touched surfaces with 70 isopropyl alcohol and wipe them clean regularly.
Fill a spray bottle with alcohol isopropyl 70 and spray directly on surfaces like hand knobs, keyboards, mobile phone, home telephone, remote control, tap handles etc., which are used excessively and have the potential of germ accumulation. These areas of the household should be treated almost after every use.
Isopropyl alcohol 70 contains 70 percent of alcohol concentration. This solution acts as a disinfectant which can kill all the micro-organisms present on any surface. Besides disinfecting surfaces, it can also be used as a sanitizer for hands and a disinfectant for pharmaceutical equipment. Furthermore, it can play an important role in the first aid kit for disinfecting any small cuts and scratches.
Why is isopropyl alcohol
70
used instead of 90?
Isopropyl contains only 70% alcohol because it is a sufficient amount to eliminate the micro-organisms from any surface. There are some vital reasons for the use of only 70 percent alcohol instead of 90%:
Water is added to the solution because it is important to denature the protein of the cell membrane, and it also works as a catalyst for the reaction. Whereas with isopropyl 90, the outer cells will be fried before the alcohol can reach the inside and denature protein.
The 70% solution takes more time to evaporate from the surface, which in turn increases the contact time. So when the contact time is increased, it gives us the insurance that the majority of the bacteria and viruses will surely be killed.
The isopropyl alcohol 70 percent is important rather than 90% or 99% because of the low concentration such as 70 slowly but surely penetrates into the cell wall and destroy the protein structure in the cell membrane. All this process causes the cell to die.
While on the other hand, where the solution contains 90% or 99% of isopropyl alcohol is no good for killing germs. This is because the solution is too powerful that it burns the outside of the cell before it gets a chance to enter the inside of the cell and kill the actual micro-organism.
One would think that maybe more alcohol concentration would kill more amount of germs and will work faster but it is quite the opposite. Keeping these facts in mind, it is proved that 70 alcohol isopropyl disinfectant is 100% effective in killing the harmful micro-organisms and have more disinfectant capacity, unlike alcohol isopropyl 90. The lethal corona virus can also be eradicated by the isopropyl 70.
Places isopropyl alcohol 70 can be used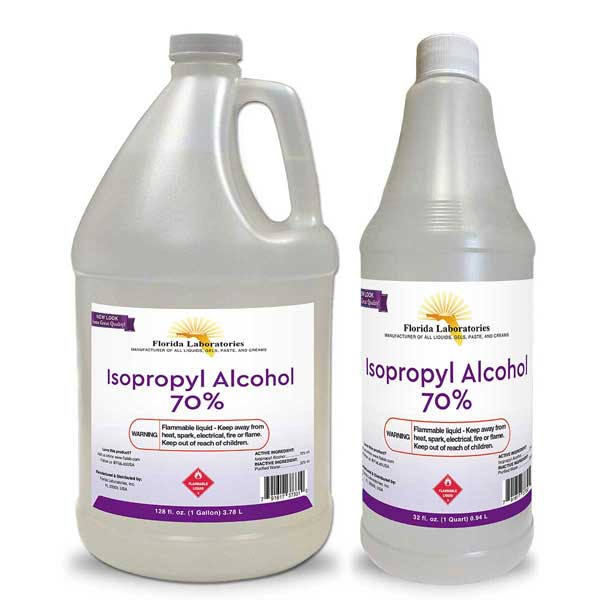 Isopropyl is the best disinfectant and eliminates harmful micro-organisms, and so it can be used for both commercial purposes and household drives and medical uses.
Household uses
Disinfect all the doorknobs in the house regularly as they are the most used objects.
Disinfect all the furniture by directly spraying the isopropyl with a spray bottle, especially on the chairs and tables.
Clean your mobile phones, screens and mobile covers with the isopropyl disinfectants regularly.
Mop your floor with this disinfectant so that any bacteria or virus on the floor would not be able to harm you or your children who crawl or play on the floor.
Isopropyl 70 is also safe for using as a hand sanitizer too.
Isopropyl 70 can also be suitable in eradicating the stains from natural fibers such as cotton and silk.
It can prove beneficial in removing stickers from the windows and can also get rid of the glue residue that comes off hardly from any surface.
Industrial uses
In large industries with complicated machinery, it is used for the purpose of cleaner for printed circuit boards, surface coating, and in inks.
Some industries use isopropyl 70 for general cleaning and wiping of the machinery and the industry's other equipment.
It is consumed by some industries who manufacture hygiene products, lotions, cosmetics etc.
Medical uses
It is used to disinfect the pharmaceutical equipment that is made up of metal. To remove any infectants from the medical kit to refrain from infecting other patients, isopropyl 70 is used.
It is stacked in gallons in hospitals and is used to disinfect the walls, doctors' offices, staircase railings, operation theatres, ICU's doors and much more, to avoid spreading any kind of disease among the patients, staff and visitors.
It is constantly used in hospitals by the staff and visitors as hand sanitizer to cleanse their hands free of germs.
It is used as a disinfectant to treat wounds, cuts and burns so that the wound and skin can be free of harmful bacteria and virus, and it would heal properly and quickly.
It can also be used in manufacturing some drugs, medical wipes and personal care products which also includes toiletries.
Other Common names of isopropyl alcohol 70
Isopropyl alcohol anhydrous
2-hydroxy propane
Dimethyl carbinol isopropanol
Isopropyl alcohol
Rubbing alcohol
Propan-2-ol
Propane
Sec-propanol
Sec-propyl alcohol
General properties of isopropyl alcohol 70
Isopropyl alcohol is a colorless, clear liquid. It is a mobile liquid which has a sharp musty alcoholic odor. It also has a bitter taste. It has anti-bacterial properties so it can kill and eradicate harmful germs. It is a powerful solution for disinfecting surfaces.
Benefits
Isopropyl alcohol 70 is an effective disinfectant and is able to eradicate 99% of the germs
It produces less vapors
It produces less odor
This solution can dry quickly when applied to surfaces
Because of less alcohol concentration, it reduces the risk of toxic fumes and combustion.
It is less flammable
Available in a more economic price
It has more contact time than 99% alcohol which is beneficial for the eradication of bacteria.
Warnings
This clear liquid should be kept in a place where it is not accessible to young children. As it is highly flammable and volatile, it should not be kept or taken near an open flame as it will catch fire immediately. If it comes into contact with eyes or nose, it should be instantly washed with plenty of water. It should not be drunken as it is hazardous to health. In case of any emergency, immediately consult a doctor. It should only be used in a well-ventilated area for safety measures. This product is manufactured exclusively for external usage. Use it with caution.
Where to buy Isopropyl Alcohol 70?
Flalab.com can fulfill your need for isopropyl alcohol 70 with just a click. We are one of the best and the fastest anhydrous supplier. We immediately ship away your orders so that it would reach you in time. You will surely be satisfied without product after using it and will order from us again.

https://flalab.com/wp-content/uploads/2020/11/isopropyl-alcohol-70-disinfectant.jpg
777
1920
Luis Tovar
https://flalab.com/wp-content/uploads/2020/09/logo_flalab_3.png
Luis Tovar
2020-11-25 01:16:50
2020-11-26 01:20:15
Isopropyl Alcohol 70 percent of concentration