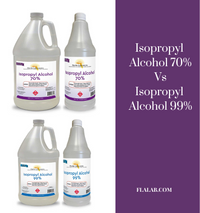 Isopropyl Alcohol Comparison
Isopropyl alcohol was the first synthetic Alcohol, and Isopropyl alcohol 99% is the highest concentration you can purchase on the market today.
All Types of Alcohol are highly flammable, but because of the high concentration of isopropyl alcohol, 99% is even more dangerous than Isopropyl Alcohol, 70 % of which is mixed with 30 percent water.
Therefore, in the 1920s, they called it "Rubbing Alcohol" as it was the go-to for massages. The word "rubbing" was used so people would know it was not for consumption. Massaging Isopropyl Alcohol 70 % into the skin was used in most sports injuries to reduce inflammation. Rubbing the Alcohol into the skin with Iso 70 % would constrict the blood vessels and remove fluid buildup that causes the inflammation. Isopropyl Alcohol 70 % used to be an old remedy for reducing a child's fever, but in recent years it's considered unsafe. Certain bacterias are better eliminated with less concentrated isopropanol, such as the Isopropyl Alcohol 70%. Nail salons and tattoo parlors always have Isopropyl Alcohol 70 percent on hand. Rubbing Alcohol, aka Isopropyl Alcohol 70 %, is used to disinfect and clean your nails before the nail polish application.

As you can surmise, Isopropyl Alcohol is a solution of 99 percent pure alcohol. Therefore, you must be mindful because it is highly flammable. It's used so much these days because of the coronavirus that we can tend to forget how explosive this Isopropyl Alcohol 99% can be. So always be cognitive of where you spray your Iso 99% and never clean your air vents with this high concentration as an explosion can occur. But with careful use, it has so many excellent benefits.
How is 99% Isopropyl Alcohol used?
Isopropyl Alcohol is Touted as a popular disinfectant and cleaning agent.
Many places use it as an alternative to bleach. Never mix the Isopropyl Alcohol and bleach, as this combination will form a toxic agent called Chloroform.
In the past, Chloroform was used as a type of anesthesia to knock someone out before surgery. And it was also used as a cough remedy, toxic to the liver and kidneys. Make sure you don't mix this deadly combination.
Isopropyl Alcohol 99 percent is best used to clean machinery and intricate computer and electrical parts that otherwise water would damage. Because of its quick drying abilities, Isopropyl Alcohol 99 percent is also great for cleaning windows, eyeglasses, polishing, and disinfection sinks and countertops.
The highlight of using Isopropyl Alcohol 99 % is it virtually leaves no leftover residue. Artists use Isopropyl alcohol 99 % to spread ink across a canvas and to clean resin spills as it completely dissolves liquid resin.
The use in creating an abstract painting by blending the isopropyl alcohol 99 % with your acrylic paint can make for some interesting artwork. Another excellent use for Isopropyl Alcohol 99% is for thawing and de-icing, and it can melt ice almost the same way salt does. So if you are in a pinch and out of salt and need an ice melter, Isopropyl Alcohol 99% is the way to go. Uses of Isopropyl are plentiful, so it's always a great idea to keep it in stock.
70% Isopropyl Alcohol vs. 99%
In conclusion, Isopropyl Alcohol 99% is used for situations where it's necessary for quick evaporation. It's perfect for electronics that would be ruined with water and any other problem requiring fast drying. 
Isopropyl Alcohol 70 % is better for killing more bacteria than Isopropyl 99 % because it's the slower drying process. Therefore, it has more time to remove the terrible virus and bacteria. Always keep a supply of both because you will always need quick access to these products. You can purchase a supply in different quantities from Flalab.com.
Isopropyl Alcohol Comparison
You can purchase Isopropyl Alcohol 70 %, Aka ISO 70, Here. 
You can purchase Isopropyl Alcohol 99 %, Aka ISO 70, Here. 
Visit us on Pinterest!
https://flalab.com/wp-content/uploads/2022/08/iso-1.png
213
200
Romina
https://flalab.com/wp-content/uploads/2020/09/logo_flalab_3.png
Romina
2022-08-03 14:11:47
2022-08-03 14:11:47
Isopropyl Alcohol Comparison