Peach Oil Face Cream
Our Peach face cream recipe is perfect for dry, flaky skin and is very lightweight. If used daily, you will see your skin cells regenerate to a smooth, clear complexion. The main ingredient we use for this recipe is Peach Kernel oil. Peach Kernel oil is known for its excellent benefits, such as its ability to help reduce large pores, and It makes the skin look soft and supple. The oil has antioxidant, tonic, and regenerative properties due to Vitamin E and A. It also helps lessen the skin problems such as psoriasis and eczema.
Peach Kernel oil goes back to the days of the Romans, where this oil was a highly regarded beauty treatment. So why not do what the Romans did and go back to beauty basics.
Sodium Benzoate-is the best preservative for keeping your face cream free from Harmful bacterial growth.
Peach Oil Face Cream
Ingredients:
1/4 Cup Peach Kernel oil
3/4 cup distilled water
1.5 Tablespoons of emulsifying wax
1/4 Teaspoon Sodium Benzoate
Directions:
Microwave wax and Peach Kernel Oil in the microwave and for 30 seconds
Then, heat the distilled water in a separate microwavable cup and then pour into the wax and oil mixture.
Cover and place in the refrigerator for an hour.
Remix it, and then at this time, you can add the Sodium Benzoate. Once it is to the desired thickness, you can pour it into a 4-ounce travel-size glass jar.
*For skin sensitivity- Always remember to test the product on a small part of your skin, usually inside your elbow, and wait 24 hours before using it on your face.
Visit us on Pinterest!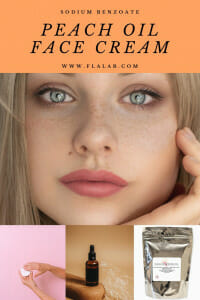 https://flalab.com/wp-content/uploads/2021/06/face-cream.jpg
425
400
Romina
https://flalab.com/wp-content/uploads/2020/09/logo_flalab_3.png
Romina
2021-06-22 14:47:16
2021-07-14 13:56:33
Peach Oil Face Cream