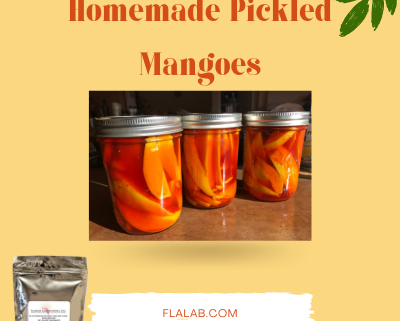 Homemade Pickled Mangoes
Cooked Pickled Mangoes are a favorite among many cultures. It's very crunchy, tart, tangy, and simple to make. You can eat it as a crunchy healthy snack. The key to having your pickled Mangoes survive for about a year is using a preservative called Sodium Benzoate.
Ingredients: 
3 large green, unripe mangoes
3 cups of sugar
1 tablespoon salt
2 tsp. turmeric powder
4 sticks of cinnamon
3 teaspoons of red chilly powder
2 bay leaves
10 cloves
1/3 teaspoon Sodium Benzoate
Instructions:
Peel the mangoes and add salt and sugar. Let it marinate for 5 hours. Place the mangoes in a pan and cook for about 30 minutes until the mangoes are translucent
add the other ingredients – cloves, red chilly powder, cinnamon, bay leaves, Tumeric powder cumin seeds. Allow it to cool and then add about a quarter teaspoon of sodium benzoate dissolved in just half a teaspoon of water.
Mix it well. This is added as a preservative so that this pickle lasts for about a year.
Sodium Benzoate is a chemical preservative that in very low concentration inhibits the activity of the microorganisms. At FlaLab.com we are sure to make our Sodium Benzoate is the highest quality, ready for your food or product preservation.
Homemade Pickled Mangoes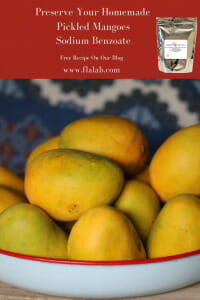 Visit us on Pinterest!
https://flalab.com/wp-content/uploads/2021/04/Homemade-Pickled-Mangoes.png
425
400
Romina
https://flalab.com/wp-content/uploads/2020/09/logo_flalab_3.png
Romina
2021-04-28 18:28:20
2021-08-18 14:10:10
Homemade Pickled Mangoes