THE PREMIUM PRIVATE LABEL BOTTLED HAND SANITIZER OR ISOPROPYL ALCOHOL HEADQUARTERS
HIGH-VOLUME PRIVATE LABEL BOTTLED ALCOHOL SUPPLY & DISTRIBUTION
---
Our Isopropyl Alcohol 2.3 ounce bottle is the perfect product to give your employees and customers. We can incorporate your branding, logo, and company information on each 2.3 ounce ISO bottle pocket spray.
Offering up these Customized IPA bottles as a gift or resale is an ideal marketing campaign for your organization. At Florida Laboratories, we have a marketing department available to implement your logo and graphics onto the label. We have a quick turnaround time and can offer you a free consultation.
Be a part of the wave of conscientious business owners who protect their employees and customers from this devastating Coronavirus pandemic by supplying everyone with these convenient travel-sized 2.3 oz IPA spray bottles. Hand sanitizing has become by far the most important habit to date. Safeguarding your health of you and that of your loved ones is the foremost important thing you can do today.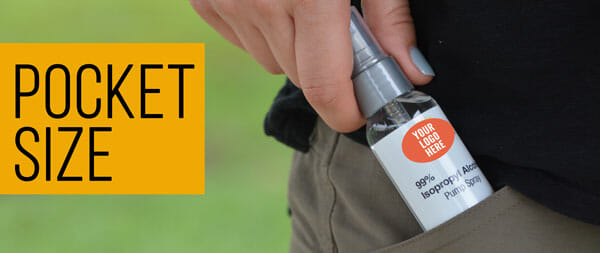 When you're out and about, there is no better portable and handy method than our isopropyl 2.3-ounce convenient traveling spray bottle. According to the CDC, Isopropyl Alcohol is the proven method for preventing many harmful viruses and bacterias, including Covid-19 (Aka the Coronavirus).
A staple product in everyone's life will always be IPA alcohol. Why not buy in bulk our mini Isopropyl Alcohol 2.3 ounce convenient bottle spray?