Description
Electrostatic Handheld Sprayer for Disinfectants and Sanitizers brings innovation to the healthcare practice, it has become the need of every home as consumers need convenient practices in the trend to ensure better health and fewer health complications. Experts believe that disinfection and cleaning combat infectious microbial growth and mitigate the risks of the health complications they may cause.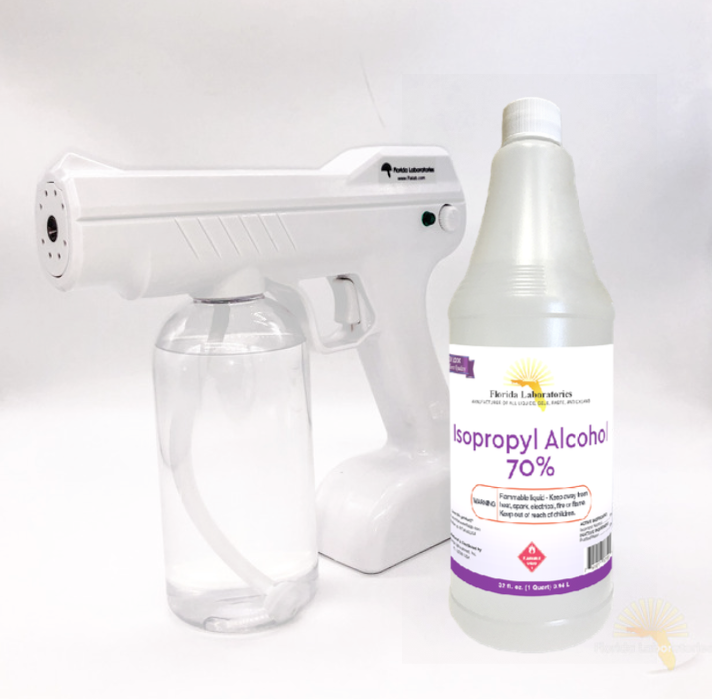 Our Electrostatic Sprayer is designed to be used with 70% Isopropyl Alcohol
To prepare, mix 1/3 of our 70% Isopropyl Alcohol and 2/3 water.
Specification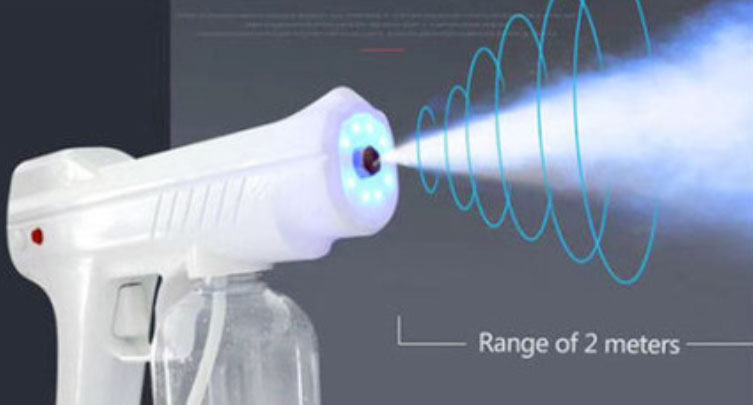 Technical parameter
Material: plastic
Machine type: wireless (rechargeable)
Charging time: 2 hours
Use time: one charge lasts 3 hours
Bottled water: 800ml
Battery capacity: 2600mAh
Related voltage: 110-240v (general)
Power: 10W
Range: 1.5 meters
Color: white
Main scope of application: disinfection of home KTV leisure places, night clubs, school theaters
Specifications: American regulations, European regulations, British regulations
Feature:
1. High-quality nano nozzles, using PA high temperature resistant materials, fast fogging, large amount of fog
2. Porous heat dissipation, the device releases a large amount of nano-spray, and the body intelligently dissipates heat.
3. Adjust the amount of fog according to softness
4. The large-capacity water bottle can adjust the control time according to the amount of fog.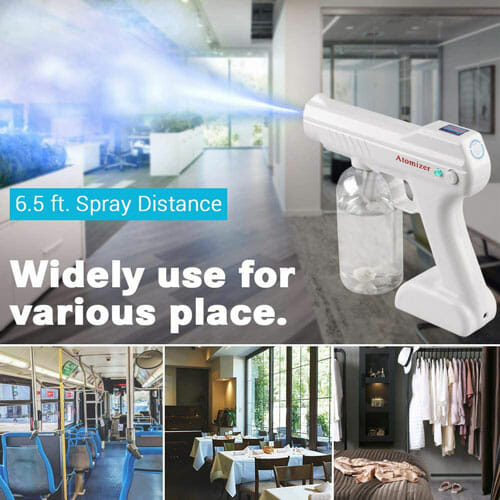 1.    The Electrostatic Handheld Sprayer is Easy to use and it is a lightweight device
It has a design like a gun with an easy-grip handheld, unlike traditional disinfectant products that require massive energy to carry them. While some giant disinfectants also require cargo, but this elegantly designed lightweight disinfectant sprayer makes it effortless to kills germs and deadly microorganisms to ensure healthy surroundings. Even it doesn't need large space to accommodate anywhere. You can easily carry it to any room you want. Its design has the following features:
The lightweight body weighs 0.3kg and is easy to carry with a single hand.
It has some buttons and nozzles with the information written on them to operate it.
It works on batteries.
The design is unique among many disinfectants on the market, it makes it worth buying.
2.    Tank Capacity
It comes with a dense tank to store chemical disinfectant solutions, sanitizers, and cleaning agents since it is a multi-use disinfectant. It has a capacity of 0.25 gallons, which is good in comparison to other disinfectant sprayers. The capacity is, however, not too large but designed to keep the product portable that doesn't cause fatigue in large places. For daily use, it is a great option to buy and own one electrostatic sprayer for your space as it holds enough solutions for daily use. The tank is smoothly adjusted with the entire body once filled.
3.    Battery Life
The device work on 16.8 volts of Lithium-ion batteries. The life of the battery is about 4hrs. You can make 20 to 30 runs with a single recharge. This is huge! And certainly, worth buying product, it would hardly take 2-3 hours to disinfect your entire home. If you are using it to disinfect a giant place like hospitals or any other commercial areas and you are out of battery, wait for an hour to recharge it again. For better functioning and restoring durability, recharge it twice a day and not more.
4.    Coverage per Tank
It covers roughly around 2,800 sq. ft. which is again smaller than usually disinfectant sprayers that help with germs but this is again due to the small body structure for you to carry it anywhere needed. If you want the sprayer with the larger coverage per tang then you may look for the other options.
5.    Spray Range
This is the critical element, we all believe the better and the longer the range of the spray the more place it will disinfect with a single pass. Electronic disinfectant sprayer is efficient here. It has a long spray that ranges from 2 to 3 feet, which is enough to disinfectant many surfaces with a single pass. The manufacturers have a goal to design the spray to cover the long-range to cover all the surface. When it comes to spray range, it does a great job. This feature of the disinfectant sprayer has further reduced your efforts to clean the long tables, giant windows, and yes, corners as well. Chemicals sprayed with the device take around 20 minutes to dry, during this time, it ensures to kill all the harmful and non-harmful microbial species.
6.    3 in 1 Nozzle
It comes with three options to select. A single nozzle allows you to set the range, droplet size, and density of the spray. It is extremely easy to operate, charged battery with the nozzle setting and there you go! It's done! Depending on the size of the droplets, it can also serve as the fogger disinfectant.
7.    Cordless convenience
The most favorite part – it is cordless! However there are many other nano atomizers and disinfectant sprays exceptionally great with their working but they have cord, mostly work on electricity. Electronic sprayer really saves it, it makes disinfection practice boundary-less especially in the space where there are no switches.
8.    Removable Easy Fill HDPE Tank
The tank is removable to fill. It can be attached back tightly, while it is to advise that don't fill the tank to mouth leave some necessary space or fill half so it can become easy to carry and disinfect many surfaces.
9.    Water Proof Body
Gladly, the body of the Electronic sprayer is waterproof and this makes it exceptional among others sprayers and fogger disinfectants. The design of the body is small comparatively, adjustable, and easy to fit anywhere, even it is travel friendly.
On the basis of the customer's reviews, yes we can say that Electronic sprayer is one of the great sprayers out there. In a nutshell,
It is durable
It has a strong body
It saves time.
It has lasting battery
It is extremely simple to work with.
It is lightweight
The effective sprayer
The cordless design makes the device more convenient
It has the quality design that grabs eyeballs.
While mostly consumers want to know the specification of the products, let's have a look!