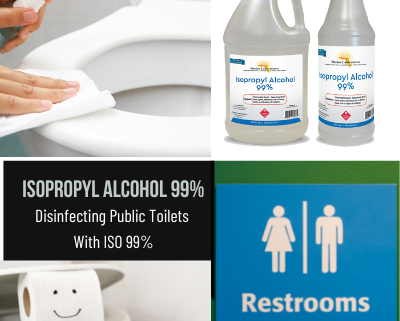 Public Toilets Iso 99 Spray
You will inevitably need to use a public toilet at some point. The best way to disinfect the toilet throne before you sit down is with Isopropyl Alcohol 99 percent. Iso 99 is effective because it dries within seconds and kills off any gross and dangerous germs that might attach to your skin. In addition, since Isopropyl Alcohol 99% dries instantly, you do not have to worry about pulling your pants up over a wet bottom.
Whether you are traveling on a plane and have to use The aircraft lavatory or try to use the high-traffic restroom at the airport before boarding your flight, it's important to note that you can only bring Isopropyl Alcohol 70% on the plane and in minimal quantities. Usually, a 3.5-ounce bottle. The Iso 70 % will still kill germs but will leave you with a sticky wet feeling. Therefore, we recommend you check with your airlines before bringing any form of Isopropyl Alcohol.
Isopropyl Alcohol is highly flammable, but because Isopropyl 70 % is mixed with water, it is less explosive.
A Little Toilet Throne History
Did you know In the 1800s, a sanitary engineer named Thomas crapper invented the siphonic flush system? Mr crapper was a stickler for Plumbing sanitation. Then in the early 1900s, the toilet bowl was created by Thomas Stewart. Finally, Stanley J Samuels invented the first toilet seat in 1941. Stanley J, Samuels. He developed the rubber toilet seat in 1941 and patented the first soft toilet seat in 1955.
Many toilet seats are made of porcelain or ceramic; some use plastic and wood.
Isopropyl Alcohol 99 % is safe on these sensitive surfaces, except for the rubber toilet seat. If you use Isopropyl Alcohol on a rubber toilet seat, the  Isopropyl Alcohol 99% will eventually destroy the rubber.
Traveling with Isopropyl Alcohol 99%
Ok, so you're driving down the road, and suddenly, nature starts to scream at the top of her lungs. You need to pull into a public restroom somewhere. So the closest place you find is a gas station. But, of course, the idea of doing your business in a known filthy gas station bathroom can send anyone down the path of paranoia. The thought of dirt and hideous pathogens crawling on your skin can give you the heebie-jeebies.
That is why pre-planning is key. Always be prepared with Your traveling bottle of Isopropyl Alcohol 99 %. And it's best not to think about using the paper that covers the seat. This cover makes it even less hygienic because germs love to attach themselves to paper. That is why carrying a pack of portable tissues along with your Isopropyl Alcohol 99% is also very important. Unless the toilet paper is housed in metal or other protective covering, you can be sure of harmful microbes on a toilet paper roll.
You might want to stay clear of washing your hands in the sink when in a public restroom. And just stick to using your Isopropyl Alcohol 99%. The faucet and countertop are filled with tiny infectious critters just waiting to attach themselves to you and join you in your journey.
Click here to Purchase Isopropyl Alcohol 99%
Public Toilets Iso 99 Spray
Visit us on Pinterest! 
https://flalab.com/wp-content/uploads/2022/07/public-restrooms.png
425
400
Romina
https://flalab.com/wp-content/uploads/2020/09/logo_flalab_3.png
Romina
2022-07-15 13:49:54
2022-07-15 13:49:54
Public Toilets Iso 99 Spray