Rose Oil Face Cream Sodium Benzoate
Rose Oil Face Cream Sodium Benzoate-Rosehip oil is a powerhouse antioxidant for the skin. Rose oil helps strengthen skin cells and can help regenerate skin tissue. Our homemade face cream has wrinkle erasing abilities and is packed with Vitamin C, which helps aging skin. When it comes to moisturizing the skin, our cream will help balance your skin's moisture and control excessive oil. This Poingent face cream will soothe any redness and irritation to your skin—the essential ingredient in our very safe preservative, Sodium Benzoate.  The fascinating thing about this preservative is that it will prevent bacteria from growing in your skin cream and prevent your pores from getting clogged.
Ingredients
3/4 cup distilled water
1/4 Cup Rosehip oil
1.5 Tablespoons of emulsifying wax
1/2 teaspoon Sodium Benzoate
Recommended Supplies:
Microwavable measuring cup
4-ounce travel size glass jar
Simple Directions for Rose Oil Face Cream Sodium Benzoate
Add wax and oil into the microwavable measuring cup and then add the oil heat in the microwave for 30 seconds.
Then in a separate microwavable cup heat the distilled water and then pour into the wax and oil mixture.
stir slowly while pouring. Then cover and place in the refrigerator for half an hour.
Mix it again and then at this time you can add the Sodium Benzoate once it is to the desired thickness you can pour it into your 4-ounce travel size glass jar.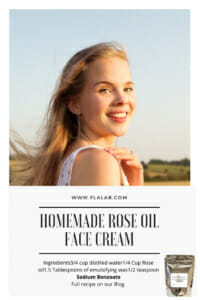 Follow us on Pinterest 
https://flalab.com/wp-content/uploads/2020/12/Sodium-Benzoate-Rose-Face-cream-1.jpg
1102
735
Romina
https://flalab.com/wp-content/uploads/2020/09/logo_flalab_3.png
Romina
2020-12-24 12:55:12
2020-12-24 14:00:44
Rose Oil Face Cream Sodium Benzoate