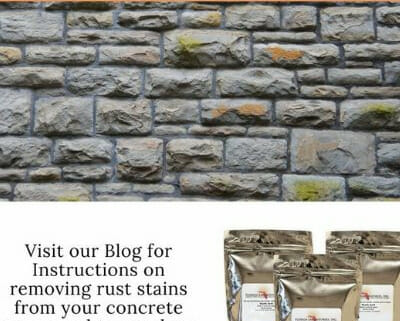 Rust Stain Removal From Concrete Pavers
Concrete pavers are very porous with Oxalic Acid, which makes rust stains easily penetrate the surface.
If you have ever tried to scrub away rust stains from your pavers, you will realize it's a waste of time. It would help if you had something more potent like Oxalic Acid.
Placing metal objects on your pavers can leave rust stains. Outdoor metal furniture is prone to leaving rust stains. You will not notice the rust stain until you move the metal object. Oxalic Acid is highly caustic, and you should always protect your eyes with goggles and your hands with rubber gloves.
Mix 3.5 ounces of Oxalic Acid in one quart of water. Apply the solution to the stain and leave it on for a few hours, then rinse off.
Repeat multiple times until the rust stain is removed from the pavers.
Florida Laboratories is located in Fort Lauderdale and can supply you with various sizes and quantities of oxalic acid. Please visit our online shop. We offer quick shipment on all of our products.
You can visit our blog any time for more tips, tricks, and recipes.
Visit us on Pinterest!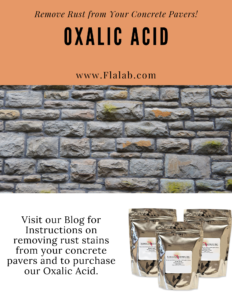 https://flalab.com/wp-content/uploads/2021/02/oxalic-acid-rust.jpg
425
400
Romina
https://flalab.com/wp-content/uploads/2020/09/logo_flalab_3.png
Romina
2021-02-10 14:54:19
2021-07-22 14:59:03
Rust Stain Removal From Concrete Pavers with Oxalic Acid