Sanitize Your Brushes
Sanitizing Combs & Brushes with Isopropyl Alcohol 70 %
Keeping your combs and brushes sanitized is crucial to control lice and other little creatures from settling into your makeup, hairbrushes, and combs.
Fun facts about the Hairbrush
The Hairbrush was first invented in the 1800s by a guy named Hugh rock. He first designed the Hairbrush with a metal handle. Later, a Lady inventor named Lyda Newman improved upon the Hairbrush and patented the Hairbrush with bristles made of synthetic material. Her design allowed for easier cleaning. It's safe to clean these synthetic brushes with Isopropyl Alcohol 70 %
Fun Facts about the Comb
Combs was used over 3 million years ago, back in prehistoric times. There are many combs, such as the Afro pick and the nit comb. Some are made using Plastic, metal and cherrywood, boxwood, and other quality wood. You can safely use Isopropyl 70% to clean the combs, but avoid using it on wooden combs.
Makeup brushes
You can get a staph infection on your face if you use dirty makeup brushes. Makeup brushes can cause acne and all sorts of skin blemishes on your face. We often overlook that we must regularly clean and sanitize our makeup brushes. Using a makeup brush in and near the eye can cause cysts and styes in your eyes just from the dirty bacteria in these brushes. We recommend constantly cleaning your makeup brushes with 70% Isopropyl Alcohol. 
HairBrushes and Combs
When you use a brush or comb on your hair, your brush and comb are picking up flaky dead skin cells. In addition, the daily use of conditioners and hair products on your brushes and combs causes a breeding ground for all types of germs. The best thing to do is clean your brushes and combs every 3-5 days using70 % Isopropyl Alcohol. 
Never Share your Brushes and Combs
Never share your brushes or combs with other people and even family members. We all have our natural Flora in our scalps, and combining our Flora with others can be a skin health hazard.
Always be mindful of cleaning your brushes and combs regularly. If you want to share your brushes and combs, soak them in 70 % Isopropyl Alcohol for 10 minutes before handing them off to your friends or family members to use.
Scalp Conditions
When you brush your hair with a dirty hairbrush or comb, you're putting dead skin cells back into your scalp. Dead skin cells can cause various scalp conditions such as psoriasis, ringworm, severe flaky dandruff, Seborrheic dermatitis, and even Hair pattern baldness. When used regularly, 70 % Isopropyl Alcohol will help prevent this.
How to clean With Isopropyl Alcohol 70 %
We recommend using Isopropyl Alcohol to kill bacteria, mites, and germs that embed themselves in your brush. All you need to do is,soak the brush or brushes for 25 minutes in 70% IPA to disinfect them. Then, rinse them in water and let them dry for 8 hours, or just let them soak overnight.
Visit us on Pinterest!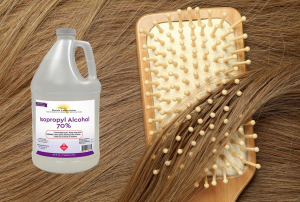 https://flalab.com/wp-content/uploads/2022/06/Sanitizing-Combs-Brushes-with-Isopropyl-Alcohol-70-.jpg
605
900
Romina
https://flalab.com/wp-content/uploads/2020/09/logo_flalab_3.png
Romina
2022-06-30 12:55:38
2022-06-30 12:55:38
Sanitize Your Brushes