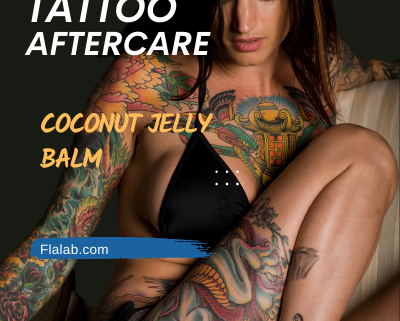 Tattoo Aftercare Coconut Jelly Balm
So You're thinking about getting a tattoo or adding a brand new one to your skin collection? Your skin can be a beautiful canvas for your artistic inked ideas. unfortunately, your new tattoo can be a disaster if you are not careful.
However, It's important to remember a tattoo is a temporary skin wound that can become infected if not cared for properly.
Fortunately, Coconut Oil is a well-known natural anti-inflammatory and will help speed up the healing process of your new tattoo. However, your tattoo can begin to fade over time, so we recommend using this Coconut jelly balm daily to prevent any fading of your new tattoo.
In addition, coconut oil in its purest form is readily available and affordable.
Power Duo-Vegetable Glycerin and Coconut Oil
This recipe will help keep your skin moist and less itchy and keep the ink colors looking bright and new.
The other critical ingredient is Vegetable Glycerin.
The power duo of Coconut Oil and Vegetable Glycerin has incredible benefits.
The fact that it can attract and hold moisture makes it a win-win for smoother-looking skin, especially for the healing process of your scabbing skin.
Vegetable Glycerin works as an efficient emulsifier, and You can use vegetable glycerin to improve the consistency of your homemade blend by making it thicker.
Ingredients:
2 oz. Beeswax pellets
3 Tablespoons Coconut Oil
1/8 cup Castor oil
1/4 cup Olive oil
3 Tablespoon Pure Vegetable Glycerin
1 teaspoon vitamin E oil
8 drops Coconut essential Oil
2 drops Tea Tree Oil
Recommended Supplies:
Clear 2 oz Glass Jar w/Lid
Small Pot
Mixing Bowl
Whisk
Directions:
In a small pot, heat the Coconut oil and the beeswax until melted over medium heat.
Remove from heat and add castor oil, olive oil, Vegetable Glycerin, and Vitamin E Oil.
Mix all the ingredients with a whisk until it cools; mix until the mixture has a thick consistency but is still pourable.
*Pour from the pot into clear 2 ounces of Glass Jars, cover with Lid, and store in a cool, dry place for up to 2 years.
https://flalab.com/wp-content/uploads/2021/09/Tattoo-Aftercare-1.png
425
400
Romina
https://flalab.com/wp-content/uploads/2020/09/logo_flalab_3.png
Romina
2021-09-29 14:21:50
2021-12-13 15:05:37
Tattoo Aftercare Coconut Jelly Balm