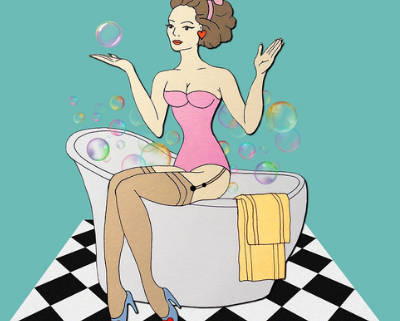 Very Berry Bath Truffle
For this very berry bath truffle, we will be using dragonfruit berry essential oil. The combination of baking soda and citric acid creates an incredible fizzing reaction, making beautiful luxurious bubbles. Your bubbles will moisturize and nourish your skin, and the scent will take your mind away to a stress-free place. These bath truffles will need five days to dry and harden before you can use them. When you are ready for your bath, hold the truffle under the faucet to activate the bubbles.
The recipe makes about 18 truffles.
Very Berry Bath Truffle
Ingredients:
24 oz. Sodium Bicarbonate (Baking Soda)
1 oz. Polysorbate 80
1 oz. Vegetable Glycerin
12 oz. Citric Acid
3.5 oz. Shea Oil
2 oz. Cocoa Butter
Two teaspoons Dragonfruit Berry essential oil
One teaspoon red Mica Color
Disk Mold and Package, Plastic (10 molds)
In a small heat-safe container, add 2 ounces of cocoa butter. Place the container in the microwave and melt the butter using 30-60 bursts. The cocoa butter takes a little while to melt. Be careful when removing it from the microwave, as it may be boiling.
Step 2
Add Two teaspoons of Dragonfruit Berry essential oil,3.5 oz shea oil, 1 ounce of glycerin, and 1 ounce of polysorbate 80. Stir and set aside.
Place a strainer over a large container. Push 24 ounces of baking soda, 12 ounces of citric acid, push through the strainer into the container.
Step 3
Add the melted butter mixture. While using a hand mixer, mix thoroughly and continue adding the liquid ingredients to the dry and mix until fully incorporated. Add one teaspoon of red mica.
Step 4
Lay down a sheet of parchment, wax, or freezer paper and cover. Allow the truffles to harden and dry for about 3-4 days.
Visit us on Pinterest!
https://flalab.com/wp-content/uploads/2021/05/bath-truffle.png
425
400
Romina
https://flalab.com/wp-content/uploads/2020/09/logo_flalab_3.png
Romina
2021-05-27 16:33:42
2021-07-22 14:26:51
Very Berry Bath Truffle