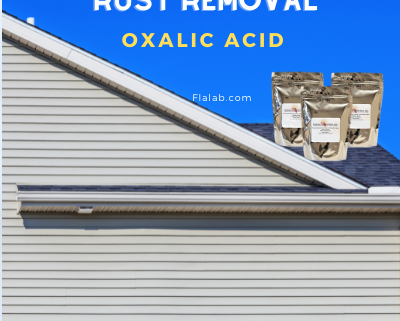 Vinyl Siding Rust Removal
Vinyl siding rust removal-Vinyl siding is made with PVC resin, and it's sturdy, long-lasting, affordable, and saves you money on having to paint every few years.
Also, It comes in a variety of colors. The color is baked in and can't be stripped or scratched off. Debris slides off quickly due to its slick surface.
When exposed to hard water or an AC unit that leaks, it can cause rust stains to develop on your vinyl siding, making your property look run down and shabby.
This cost-saving remedy can easily clean up your vinyl siding and make it look good as new.  You will need to purchase a simple power washing unit which you can easily find on amazon.
Vinyl Siding Rust Removal.
Ingredients:
Oxalic Acid,
Hot Water.
Instructions:
8 ounces of Oxalic Acid.
One gallon of hot water in the Powerwasher.
begin spraying your Vinyl siding from top to bottom.
Rinse off with cold water.
Visit us on Pinterest!
Oxalic Acid is a natural compound and a potent acid with its acidity a thousand times stronger than acetic acid. When purified, it has the appearance of a white crystal substance and is virtually colorless in water.
Furthermore, Oxalic Acid 99.6 % is used in industries to sterilize equipment and applied for mineral processing mechanisms.
Additionally, It's also used in the textile industry to bleach clothing such as linen, denim, leather, and cotton, and is excellent for removing rings around the collar on shirts.
Moreover, It is used as a bleaching agent for leather and straw hats. The name "Oxalic acid originated because it is isolated from the plant of the genus "Oxalis," which is known as wood-sorrels.
https://flalab.com/wp-content/uploads/2021/08/Vinyl-Siding-Oxalic-acid-3.png
425
400
Romina
https://flalab.com/wp-content/uploads/2020/09/logo_flalab_3.png
Romina
2021-08-12 13:15:46
2022-01-04 16:29:03
Vinyl Siding Rust Removal